Sinful Sweets From 'The Joy of Vegan Baking'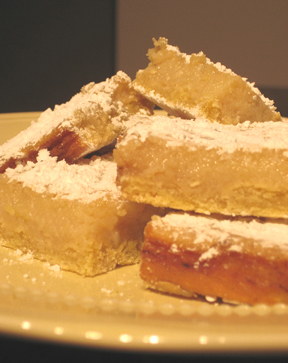 What would make my list of requirements for the perfect cookbook? Let's see…
•Tasty, reliable recipes, obviously.
•Tips throughout that explain all those small steps that most cookbooks assume you already know how to do.
•Beautiful pictures that rival the artistic photography in even a Charlie Trotter cookbook.
•But not just pretty pictures, also part instructional text—think a toned-down version of a CIA textbook.
•Oh, and all the recipes are vegan.
If I were writing a cookbook, these are all the elements I would want to include to make the perfect book. Luckily, I've already found a book on baking that has all of the above.
The Joy of Vegan Baking: The Compassionate Cooks' Traditional Treats and Sinful Sweets by Colleen Patrick-Goudreau is by far one of the best vegan cookbooks I've come across. Don't be fooled by the "average Joe" cover, because there are culinary treasures to be found inside the book.
It is loaded with reliable recipes for classics such as chocolate chip cookies, lemon bars (see the recipe below), pumpkin pie, and caramel popcorn—but the author ventures away from the norm as well. Colleen mixes it up a bit with recipes for Mexican horchata, melonpan (a Japanese cookie bread), and chocolate babka (Polish bread). I can honestly say that I was not disappointed by one single recipe in the book—and I tried many.
I must admit that I am very much a cookbook junkie—let's just say "connoisseur." I look at not just the recipes and photos but also the quality of the paper, the font, the binding—I look at it all. Sadly, many vegan cookbooks just aren't up to par with where vegan food is. The books sometimes look like children's homemade Christmas presents for their parents—not exactly an accurate portrayal of the best vegan recipes there are to offer. But that is not the case with The Joy of Vegan Baking. It's a beautiful book with delicious recipes, and I give it the "Amy, Cookbook Connoisseur" seal of approval.
Lemon Bars
From The Joy of Vegan Baking by Colleen Patrick-Goudreau
For the Crust:
1/2 cup nonhydrogenated nondairy butter, at room temperature
1/4 cup confectioners' sugar
1 cup unbleached all-purpose flour
•Preheat the oven to 350°F. Grease and 8×8-inch baking pan with canola oil (or use a cooking spray) and sprinkle with just a light dusting of all-purpose flour. Set aside.
•In the bowl of your electric stand mixer, or with an electric hand mixer, cream the "butter" and confectioners' sugar until light and fluffy. Add the flour and beat until the dough just comes together.
•Press into the bottom of your prepared pan and bake for about 20 minutes, or until lightly browned. Remove from the oven and place on a wire rack to cool while you make the filling.
For the Filling:
1/2 cup silken tofu (soft or firm)
1 cup granulated sugar
Zest from 2 lemons
1/3 cup fresh lemon juice (2 to 3 lemons)
2 Tbsp. unbleached all-purpose flour
1 Tbsp. cornstarch
Confectioners' sugar, sifted
•Place the tofu in a food processor or blender and blend until creamy, about 1 minute. Add the granulated sugar and blend until nice and smooth. Add the lemon zest, lemon juice, flour, and cornstarch.
•Pour the filling over the baked shortbread crust and bake for about 20 minutes, or until the filling is set. Remove from the oven and place on a wire rack to cool.
•To serve, cut into squares or bars and dust with the sifted confectioners' sugar. Wait until you're just about to serve the bars before you sprinkle them with the confectioners' sugar. Otherwise, it will soak into the bars and you'll miss out on that pretty presentation.
Makes 16 2-inch squares
Related Posts
Respond