Sin Carne, Por Favor!
The following article was written by Jared Misner.
If it were acceptable and if I weren't worried about gaining a few pounds, I might eat chips and salsa every day. Burritos are also on the "I could eat it every day" list. While we're discussing it, add guacamole to that list.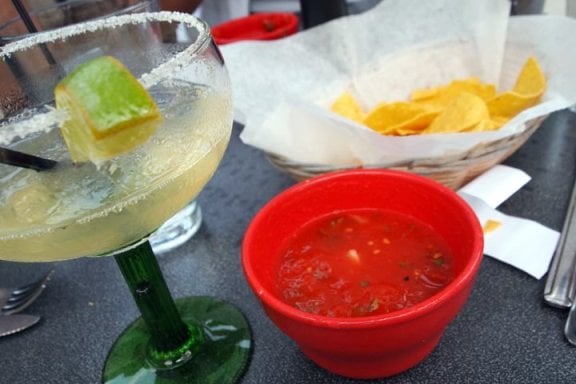 I'm a big fan of Mexican fare, in case you didn't catch the hints. There's just something wonderful about a plate full of frijoles. But as a frequent vegan diner in Mexican restaurants, I know things can get a bit, well, cheesy. Check out these helpful tips to make those chimichangas cruelty-free:
No cheese, please: This is probably the most useful phrase in any Mexican restaurant. While not necessarily the case in Mexico itself, Americanized Mexican restaurants feel the need to slather nearly every menu item with cheese. The words "without cheese" can easily make many menu items vegan.
Cut the cream: Sour cream seems to be the Robin to most Mexican restaurants' cheesy Batman. Order your burrito sans sour cream and you'll cut not only the calories and cholesterol but also the cruelty.
Lotsa lard: A lot of Mexican restaurants cook their pinto beans in lard or other gross meat juices. Call ahead to see if your favorite Mexican restaurant offers vegetarian beans. Black beans are usually a safe option.
Chain gang: Some chain restaurants serving Tex-Mex or Mexican foods offer vegan meats or meat alternatives. Chipotle offers vegan chicken in some locations and Moe's offers tofu as a protein choice in all its locations. And Taco Bell will gladly substitute potatoes or beans for meat in that burrito. Fiesta, anyone?
Mexican food, with its beans, rice, corn and tortillas, is often a vegan's paradise. Whether you dip into a healthy dose of guacamole or twin tostadas, we're sure it will be delicioso! Tip over a margarita and eat your heart out. Mexican restaurants are great places to meet up with omnivore friends to show them just how easy veganism can be.
Have a favorite Mexican restaurant? Tell us what it is in the comments!
Respond