Simply Vegan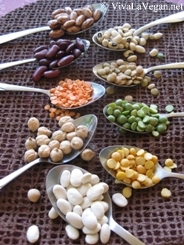 The following article was written by former PETA intern Jared Misner.
My plate was full. It was one of those treacherous walks to the outside cookout table where I felt like a banana peel would suddenly appear on the ground and send my overflowing plate flying. Thanksgiving in July, if you will.
A spinach salad with balsamic dressing, smoked potatoes, and a veggie burger piled high with its own buffet of toppings fought for their rightful place on my plate. You can imagine my surprise when a tablemate made the all-too-common remark, "It must be so hard being vegan."
Judging by the weight of my plate, I obviously wasn't struggling for food. In fact, I rarely visit specialty health-food stores. I can get by just fine with a weekly trip to the local grocery store to round up all my vegan grub. The next time that you get the verbal vegan sympathy card, be sure to tell your friends how easy veganism is! Check out the following list of great (and cheap!) vegan staple foods that any grocery store is sure to carry:
Beans: From black beans to kidney beans to garbanzo beans and every kind of bean in between, any grocery store stocks shelf upon shelf of these protein powerhouses.
Rice: Brown rice is one of my favorite foods. Luckily, any store in town probably carries this whole-grain darling. Pair the rice with a tortilla and some salsa and you have a Mexican feast in the making! If you have a taste for a more exotic rice, most supermarkets probably have jasmine rice or basmati rice in stock as well.
Tofu and tempeh: Growing in popularity, these soy-based sweethearts can usually be found in your supermarket's produce section.
Fruits and vegetables: I feel silly even mentioning these, but I've turned my grocer's supermarket stand into my own personal playland. My shopping cart is pretty much full after perusing just this one section of the store.
Spices: Curries, cumin, rosemary, basil—what's not to like here?
A baker's paradise: If I'm not working or at school, I'm probably baking. Whole-wheat flour, vegan chocolate chips, sweetener, walnuts, soy milk, and cocoa powder are never in short supply in my kitchen. To make your favorite baked goods vegan, simply substitute each egg in the recipe with three tablespoons of unsweetened applesauce!
Breads and pastas: I love a great, hearty whole-grain bread. There's something that just feels right in the world when you're holding a thick piece of crusty bread. A lot of breads are vegan, but watch out for any stray milk in the mix. And last, but certainly not least, the pasta aisle should become your new best friend. Steer clear of egg noodles, and you'll be on your way to wining and dining the night away.
Of course, if I listed all the wonderful foods that every grocery store carries, I'd be writing all day. Did I forget any of your favorite vegan must-have foods you buy at the supermarket? Let me know in a comment below!
Respond