Simple Side: Creamed Cauliflower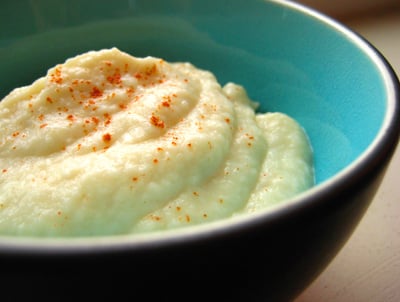 I must admit that I often get wrapped up in trying exotic new recipes, fancy faux meats, or veganized versions of classics. And when you do this it's easy to overlook the basics, like simple vegetable sides.
One vegetable that knows a thing or two about being overlooked is cauliflower. In my kitchen, it usually only makes appearances in stir-fries, but it can be used for much, much more. One simple side recipe I recently tried puts this often overlooked veggie front and center—Creamed Cauliflower.
In this recipe, you prepare the cauliflower like you would a potato or parsnip purée. You simply cook the vegetable and blend with your favorite combination of soy milk, margarine, salt, and pepper. The recipe I used for inspiration adds a touch of cayenne pepper for a nice little kick. Enjoy!
Creamed Cauliflower
1 1-pound head cauliflower, cored and separated into 2-inch florets
1 cup unsweetened soy milk
4 Tbsp. soy margarine
Salt and cayenne pepper, to taste
•Preheat the oven to 325°F. In a large pot bring salted water to a boil and cook the cauliflower florets until tender, about 7 minutes. Drain and then spread the cauliflower on a large baking sheet. Bake for about 5 minutes, or until the cauliflower is slightly dried out.
•In a small saucepan or in the microwave, combine the soy milk and margarine and heat until the margarine is melted.
•Working in batches, purée the cauliflower in a blender with the soy milk mixture then transfer the purée to a medium microwave-safe bowl.
•Season with salt and cayenne to taste.
Makes 6 servings
Respond