Simple Panko-Encrusted Dijon Seitan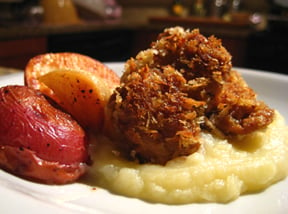 I'm going to let you in on a little secret for a good recipe that looks and tastes harder to make than it is—Panko-Encrusted Dijon Seitan. I am a firm believer that panko breadcrumbs make most recipes somehow seem fancier than they really are. I bet the light and crisp crumbs would turn even a plain hunk of tofu into a mouthwatering treat—OK, that is a bit of a stretch, but they do add a lot to the simplest of dishes.
My seitan was served over a parsnip purée with roasted red potatoes and garlic on the side—also very easy to make—but will go with almost any veggies you like. Enjoy.
Panko-Encrusted Dijon Seitan
2 Tbsp. egg replacer (try Ener-G brand)
3 tsp. water
2 Tbsp. Dijon mustard
Oil for frying
2 cups panko breadcrumbs
Salt and pepper, to taste
1 pkg. seitan, cut into bite-sized pieces
•Combine the egg replacer, water, and mustard to form a thick, batter-like mixture. Cover the bottom of a heavy skillet in 1/2 inch of oil and heat over medium-high.
•In a large mixing bowl, combine the breadcrumbs, salt, and pepper. Dip the pieces of seitan into the batter and then into the breadcrumb mixture. Fry in the hot oil, turning once, until lightly browned. This may have to be done in several batches.
•Remove the seitan from the oil and drain on paper towels.
Respond