Seasoned Refried Beans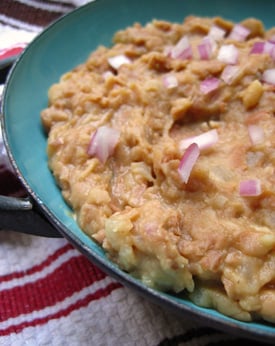 I don't know about you, but I cannot enjoy a Mexican meal, like tacos, without a side of refried beans. They are hands down my favorite Mexican dish. I think I might even swim in a pool of beans if I could—that's how much I love them.
Most grocery stores carry canned vegetarian refried beans (nonveg varieties often contain lard), but if you make them yourself, you'll be in for a treat. You can add more spices and flavor with the homemade variety, and you can completely control the consistency. Most canned refried beans are made to be very, very thick, so I make them at home and thin them out a bit. I like to use faux chicken stock instead of water, to add even more depth to the flavor.
Try this recipe below with pinto beans, or you can make it with black beans instead. My recipe doesn't make much, so if you're cooking for a group, you may need to double or even triple the ingredients.
Seasoned Refried Beans
1 15.5-oz. can pinto beans
1/2 medium yellow onion, diced
2 Tbsp. vegetable oil
2 cloves garlic, minced
1/2 tsp. cumin
1/2 tsp. chipotle powder
1 cup faux chicken or vegetable broth
Salt (optional)
Drain the pintos and set aside.
In a medium saucepan, sauté the onion in the vegetable oil over medium heat for about 10 minutes, until softened. Add the garlic, cumin, and chipotle and cook for an additional minute.
Add 1/2 of the pinto beans and 1/2 cup of broth, then mash until creamy. Add the remaining beans and broth, then mash again. Note: At this point, the beans should look rather thin.
Cook over low heat for 15 minutes, stirring occasionally, until the desired consistency is reached. The longer you cook the beans, the thicker they will be. Season with salt, if desired.
Respond