Sandwich of the Week: Egg-Less Salad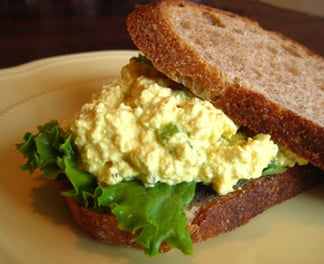 Egg salad sandwiches were a weekly, if not semiweekly, lunch in my house growing up. I can still see my mom mixing the ingredients—always on a plate, never in a bowl—and then adding a scoop to her untoasted bread and topping it with a slice of dairy cheese.
Now that I'm older—and quite rebellious—I make a vegan version of the sandwich, but of course I do it my own way.
One of the best things about this recipe, which starts with mashed tofu, is that it's much easier to make than the classic recipe. There's no boiling, no peeling—just mashing. Some recipes call for half tofu and half mashed chickpeas, which sounds good, but I've yet to try it. You then add other ingredients commonly found in egg salad—pickle, celery, mustard, onion, parsley, or any others you like—and turmeric for the yellow color. It's finished with a dash—or if you're like me, a lot—of salt and pepper.
I serve my sandwich on toasted bread and opt out of the soy cheese slice on top—take that, Mom! The result isn't exactly like the original—I don't think that's the point—but it is similar. Just close enough that I can see my mother's influence, but different enough so that I can call it my own.
Egg-Less Salad Sandwich
1 lb. firm tofu, mashed
1/4 cup + 1 Tbsp. vegan mayonnaise (try Vegenaise)
1 Tbsp. chopped fresh parsley
1 dill pickle spear, chopped
1/4 cup onion, chopped
1/4 cup celery, chopped
1/4 tsp. turmeric
1 Tbsp. yellow mustard
Salt, to taste
Pepper, to taste
5-10 lettuce leaves
10 slices whole wheat bread, toasted
•Combine the tofu, vegan mayo, parsley, pickle, onion, celery, turmeric, and mustard in a large bowl, mixing until just combined. Add salt and pepper, to taste.
•Place 1 or 2 lettuce leaves on a slice of toasted bread, add a scoop of the salad, and top with a second slice of bread.
Makes 5 servings
Respond