Roasted Veggie and 'Chicken' Tacos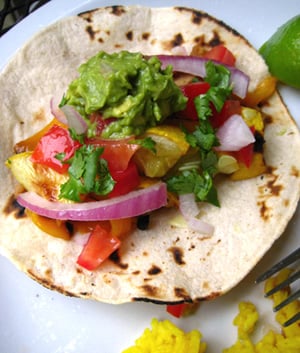 A deep-fried crunchy shell is usually the last thing I want to see anywhere near my tacos. Sure, they're good when you want the traditional Americanized taco composed of veggie crumbles cooked in one of those way-too-salty packets of taco seasoning, then topped with lettuce and soy cheese—but when I want a taco with fresher flavors, I have to go with a soft corn tortilla.
To me, fresh corn tortillas are best when toasted over the open flame of my stove until they're just darkened around the edges. And to accompany the fresh casing, I have to go for fresh fillings.
Seitan or tofu is delicious when pan-fried in a little oil, until crispy, and then coated with herbs and spices. And a variety of roasted vegetables add subtle flavor to a taco. I find it works best to slice all of them into thin strips before placing on top of my tortilla.
To cool the heat of the spices on the seitan or tofu, I top my tacos with diced tomatoes, homemade guacamole, cilantro, onion, and lime, but you can try any toppings you'd like.
Just to be clear, I'm not saying that the standard taco and a hard shell are bad—they're just usually not my first choice. Enjoy!
Roasted Veggie and 'Chicken' Tacos
2 Tbsp. olive oil
1 pkg. chicken-style seitan
1/2 tsp. chipotle powder
1/2 tsp. paprika
1/2 tsp. cumin
1/2 tsp. chili powder
1 medium squash, quartered
1 red bell pepper, quartered
5 mushrooms (try baby portobello or button)
Salt and pepper, to taste
8-10 corn tortillas
1/4 red onion, sliced (optional)
1/2 tomato, diced (optional)
1/2 cup guacamole (optional)
2 Tbsp. cilantro (optional)
1 lime, sliced into wedges (optional)
•In a medium sauté pan, heat 1 tablespoon of the oil over medium heat. Add the seitan and cook until the sides begin to brown, about 10 minutes. Add the chipotle, paprika, cumin, and chili powder and sauté for an additional 2 to 3 minutes.
•Place the squash, red bell pepper, and mushrooms in a medium bowl and toss with the remaining tablespoon of oil. Season with salt and pepper. Pour the veggies onto a baking sheet and place under a broiler until they begin to brown and are cooked through, about 10 to 15 minutes.
•Once the seitan and veggies are cooked, cut them all into long thin strips and set aside.
•Heat the corn tortillas over an open flame or under a broiler until the edges darken. Top each tortilla with a few of the veggies and a few pieces of sliced seitan. Garnish with onion, tomato, guacamole, cilantro, and lime juice, if desired, and serve.
Makes 8 to 10 tacos
Respond