Roasted Pumpkin Seeds
Written by
October 21, 2010
|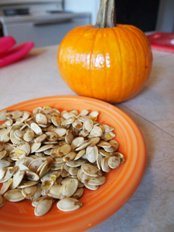 The celebration of Halloween traditionally includes many enjoyable activities, such as going trick-or-treating, carving jack-o'-lanterns, or watching scary movies. Have you ever visited a local pumpkin patch, haunted house, or corn maze? So much fun!
You can participate in all of these Halloween festivities with a clear conscience. Be sure to check out PETA Kids' list of vegan candy here and PETA's "Accidentally Vegan" list here.
But one of my favorite treats of the season comes right after we carve pumpkins: pumpkin seeds! Just be sure to save the seeds and try out this easy recipe. You'll love this simple and healthy snack. Enjoy!
Roasted Pumpkin Seeds
2 cups pumpkin seeds
1 qt. water
2 Tbsp. salt
1 Tbsp. Earth Balance margarine, melted
1 tsp. cracked pepper
• Preheat the oven to 250°F.
• Discard any cut seeds, then remove the stringy fibers from the remaining seeds.
• In a medium pot, combine the water and the salt. Bring to a boil.
• Add the seeds and boil for 10 minutes. Drain and dry.
• Place in a bowl and combine with the melted Earth Balance and the pepper.
• Spread the seeds on a baking sheet. Stirring every 10 minutes, bake for 30 to 40 minutes, or until crisp and golden brown.
Variation: For spicier seeds, add 1 tsp. cayenne pepper, 2 Tbsp. hot pepper sauce, and 1 Tbsp. salt to the melted Earth Balance margarine.
Makes 2 cups
Related Posts
Respond
In This Section