Roast Seitan Au Jus Sandwiches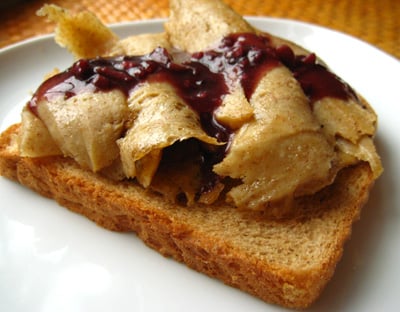 After subjecting you to a not-so-appetizing picture of raw seitan in my last post, I thought I should make up for it by showing you one of the delicious sandwiches I eventually made with it: a roast beef-style seitan sandwich with dipping sauce.
For the sandwich, take thinly sliced pieces of cooked seitan and heat them in a mixture of olive oil, liquid smoke, salt, and pepper until they're nice and warm. You then make the dipping sauce in the same pan so that the leftover oil mixture is incorporated. The final sauce is rich, salty, and surprisingly indulgent for so few ingredients.
I already had the seitan on hand for my sandwiches, but you can make your own using this recipe or you can buy prepared seitan at your grocery store to make this recipe even easier. Enjoy!
Roast Seitan Au Jus Sandwiches
1 Tbsp. olive oil
1/4 tsp. liquid smoke
10 thinly sliced pieces cooked seitan
Salt and pepper, to taste
1 cup faux-beef broth
1/2 cup red wine
1 clove garlic, minced
1/2 Tbsp. flour
1/2 Tbsp. vegan margarine
4 slices bread
•In a medium sauté pan, bring the oil and liquid smoke to medium heat. Add the seitan to the pan five slices at a time, season with salt and pepper, and cook until just heated (about 1 to 2 minutes). Repeat until all seitan is cooked and then set it aside.
•Add the faux-beef broth, red wine, and garlic to the sauté pan and simmer until the mixture is reduced by half. Add the flour and margarine and then season with pepper, if desired.
•Place five slices of seitan on one piece of bread, top with the au jus sauce, and cover with an additional piece of bread. Serve extra au jus on the side.
Makes 2 sandwiches
Respond