The Red Avocado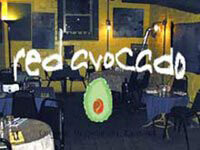 521 E. Washington St.
Iowa City, IA 52242
319-351-6088
www.TheRedAvocado.com
Iowa City's The Red Avocado restaurant is winning rave reviews from vegetarians and meat-eaters alike. Says coowner Derek Roller, "We've had meat-eaters say this is the best restaurant in town." Michael, a "PETA Eats" reader, thinks he knows why: "Fresh, organic ingredients make Red Avocado's already great food even better." Fresh is the key word: Red Avocado grows its own produce during the summer and fall, and almost everything it dishes up is locally produced, organic—and vegan!
Red Avocado's menu has something for almost everyone, including homemade soups and sandwiches, as well as a new twist on traditional Iowa fritters. The restaurant's pig-friendly fritters start with a corn-and-bean blend—not Babe—which is dipped into a beer batter, fried until it's golden brown, and served on rice with a shot of Homemade Torpedo Salsa.
Other favorites include the "Between Heaven and Earth" Sandwich—fresh avocado, tomatoes, and greens lightly dressed with sunflower mayo—silky and sumptuous coconut soup, the tempeh Reuben sandwich, and "The Bomb" veggie burger, which we're told is pure dynamite.
Red Avocado's décor is as funky and fun as the food. Original art lines the café's colorful walls, and there is an enclosed outdoor courtyard for dining "al fresco," plus sidewalk seating during warm months.
Recipes From Red Avocado
Roasted Red Pepper Bruschetta
Red peppers
Salt
French bread
Garlic cloves
Olive oil
Balsamic vinegar
Salt and pepper, to taste
Crushed peanuts
Preheat oven to 450°F or turn on broiler. Cut a red bell pepper in half, tear out the seeds and stem, and place outside up on a baking tray. Sprinkle with a bit of salt. Place in oven or broiler. The charring period usually takes 20 to 30 minutes, but check on the peppers every 7 minutes or so to avoid burning. When the peppers are well charred, remove them from the oven and place them in a plastic bag for 10 minutes. Remove them from the bag and peel off the skin. Dice the pepper. Slice some French bread (1/2- to 1-inch slices) and roast it in the oven until the edges are brown and the bread is quite toasted. Remove it from the oven and quickly rub fresh garlic cloves over the toast two or three times. Place some of the pepper onto each slice of toast and top with a generous drizzle of extra virgin olive oil, a few drops of balsamic vinegar, salt and pepper to taste, and about a teaspoon of crushed peanuts.
Spiced Cauliflower
1 head of cauliflower
2 Tbsp. oil
1 1/2 Tbsp. brown mustard seeds (whole)
1/4 tsp. cumin seeds
1/4 tsp. fennel seeds
1/4 tsp. coriander seeds
4 whole cardamom pods
1 Tbsp.. minced garlic
1/2 small onion, sliced
1 cup vegetarian stock or water
1 Tbsp. fresh lemon juice
Salt and fresh ground black pepper, to taste
Break or cut florets from one head of cauliflower and soak them in cold water for 10 minutes. Drain and dry on paper towels. Heat a wide, heavy-bottomed pan and, when hot, add the oil and swirl. Add the whole brown mustard seeds, cumin seeds, fennel seeds, coriander seeds, and cardamom pods and let sizzle for a few seconds. Add the minced garlic, stir for several seconds, add a handful of sliced onion, and cook gently (turn the heat down if necessary). Add the cauliflower and stir for two or three minutes. Add a cup of stock or water and the fresh lemon juice, and bring to a simmer, turn heat to low, and cover for a few minutes (until the cauliflower is just cooked). Add salt to taste and some freshly ground black pepper.
Respond