Recipe Test: Vegan Mayo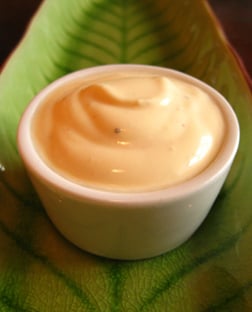 I've seen several vegan mayonnaise recipes online; most use a soy milk and oil base, and others use tofu. Since I'm a Vegenaise-lovin' fool, I've been skeptical that I would be able to whip up anything quite as tasty in my own kitchen. Just this morning, I decided that now is the time to put my theory to the test.
For my first homemade-mayo experiment, I decided to try the soy milk and oil base because a) it was the easiest recipe to find and b) it received the best reviews online. Like any good scientist, I followed the directions exactly, carefully measuring each ingredient so I could be sure the results truly reflected the recipe.
First I blended all of the ingredients, except the oil, which I then added in slowly. I continued to blend on a slow speed so that the mixture would thicken—that never happened. I would say it became less runny, but it definitely never thickened. If you like a thin mayo that's more like a sauce than a spread, then this one's for you, but I was not pleased.
That's exactly when I diverted from the recipe and added my own touches. A little more oil. Why not? A dash of cornstarch. Why not? The result looked a little more like my beloved, especially after chilling in the fridge for about an hour, but the taste wasn't even close. The cornstarch made it slightly chalky, and the flavor was bland.
Looks like I'll be sticking with my Vegenaise for now, but if anyone has a better recipe or some advice on how to improve this one, please share!
Vegan Mayonnaise
3 Tbsp. lemon juice
1/2 cup soy milk
1/4 tsp. salt
1/4 tsp. paprika
1/4 tsp. prepared mustard
6 Tbsp. vegetable oil
•Put all the ingredients except the oil in a blender. Blend on the lowest speed. With the blender running, gradually add the oil until the mixture starts to thicken. Continue blending until thickened and smooth.
•Transfer the mayonnaise to a jar and store in the refrigerator.
Makes 3/4 cup
Respond
In This Section