Recipe Test: Vegan Mayo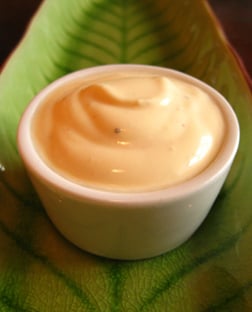 I've seen several vegan mayonnaise recipes online; most use a soy milk and oil base, and others use tofu. Since I'm a Vegenaise-lovin' fool, I've been skeptical that I would be able to whip up anything quite as tasty in my own kitchen. Just this morning, I decided that now is the time to put my theory to the test.
For my first homemade-mayo experiment, I decided to try the soy milk and oil base because a) it was the easiest recipe to find and b) it received the best reviews online. Like any good scientist, I followed the directions exactly, carefully measuring each ingredient so I could be sure the results truly reflected the recipe.
Vegan Mayonnaise
3 Tbsp. lemon juice
1/2 cup soy milk
1/4 tsp. salt
1/4 tsp. paprika
1/4 tsp. prepared mustard
6 Tbsp. vegetable oil
Put all the ingredients except the oil in a blender. Blend on the lowest speed. With the blender running, gradually add the oil until the mixture starts to thicken. Continue blending until thickened and smooth.
Transfer the mayonnaise to a jar and store in the refrigerator.
Makes 3/4 cup
Respond