Raw Holiday Pecans
The following is adapted from an article by Carissa Leventis-Cox of Mama in the Kitchen, and she ain't cookin'!
My cousin Ami served her father's Christmas Garlic Pecans a few years ago, and they were delicious and addictive. I think I kept pestering her to make it since then because I never knew that pecans could taste so good. In the past few years, I have discovered other recipes for pecans. Here is a raw holiday pecan recipe spiced with cinnamon and rosemary. People never guess that this is a raw treat. Enjoy!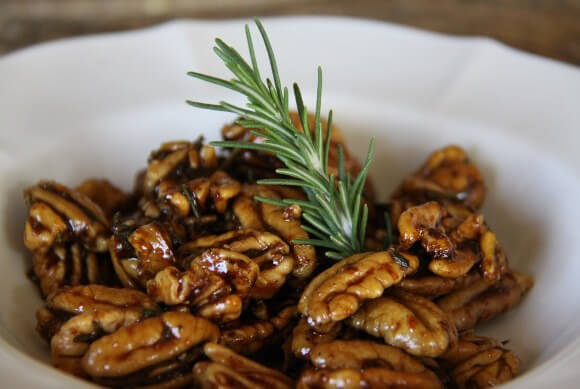 Raw Holiday Pecans
2 cups raw pecans
1/4 tsp. cinnamon
1/4 tsp. pepper
1 tsp. chili powder
2 tsp. sea salt
2 tsp. paprika
2 tsp. Bragg's Liquid Aminos
2 Tbsp. fresh rosemary
2 Tbsp. extra virgin olive oil
2 Tbsp. agave syrup
Soak the pecans overnight. Drain and rinse.
Dehydrate at 110ºF until dry. (This process aids in digesting the pecans.) If you are short on time, simply use raw pecans.
Mix all the ingredients together in a bowl.
Makes 1 tasty bowlful
Respond