Raw Cream of Mushroom Soup
The following article was written by Carissa Leventis-Cox of Mama in the Kitchen, and she ain't cookin'!
This savory Cream of Mushroom Soup is easy, simple, and delicious, and you can even make last night's leftover veggies into cream soup today. This one's a keeper for any busy mama's recipe file!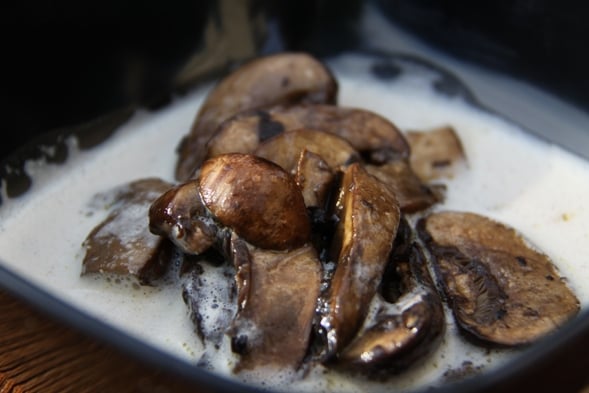 For the Mushrooms
2 Tbsp. sea salt
2 Tbsp. balsamic vinegar
2 Tbsp. extra virgin olive oil
2 lbs. thinly sliced or chopped crimini or portobello mushrooms (Crimini mushrooms are available year-round.)
Marinate all the ingredients for at least 10 minutes or overnight.
For the Cream Soup
1/2 tsp. garlic powder
1/2 tsp. ground ginger
1/2 tsp. onion powder
2 Tbsp. nutritional yeast
2 Tbsp. Nama Shoyu (unpasteurized soy sauce)
1/4 cup raw almond butter (You can also use raw tahini or raw cashew butter.)
2 cups water
Scallions, cilantro, or other herbs for garnish
Purée all the ingredients in a blender.
Place the marinated mushrooms in a bowl and top with the cream soup. Garnish with the sliced scallions, cilantro, or other herbs.
Makes 4 servings
Respond