Ragin' Cajun Mock Crab Cakes
Written by
Amy Snyder
|
August 3, 2007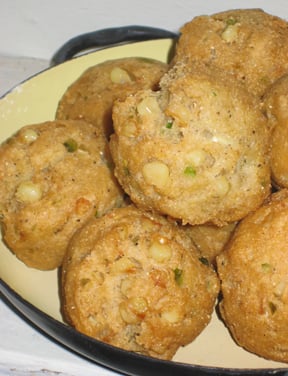 With football season just around the corner, I decided to start sending the New Orleans Saints positive vibes by making a little ragin' Cajun feast. I was hoping that the spiciness of my side of vegetables would be enough to create some weird cosmic heat wave that would somehow reach the players and light a fire underneath them this season. I'm doubtful this actually worked, but I gotta believe it didn't hurt.
My feast consisted of mock crab cakes, hushpuppies—lovingly referred to as "shut up dogs" by my little brother—and low-country boil vegetables. The recipe for the cakes was provided by Sluggo's in Pensacola, Florida. The flavor was delicious, but they were extremely delicate. My first attempt ended with the cakes broken into small pieces and submerged in an oil bath. After adding extra breadcrumbs, reducing the amount of oil, and placing the formed cakes in the fridge for an hour before frying, they turned out perfectly.
The hushpuppies were much fancier than what I remember eating as a child—stuffed with fresh corn, peppers, and soy cheese. I added a pinch of salt to the batter before frying, and they ended up being very light and airy for a hushpuppy. They, too, were delicious.
The cakes and hushpuppies were complemented by a side of vegetables—I thought I should have at least one thing that wasn't fried!—that are standard for a low-country boil: corn on the cob, red potatoes, and whole heads of garlic. I boiled the vegetables in a lot of Cajun seasoning. They were so spicy that I had to take a huge gulp of water after each bite. Hey, I do what I can for my team.
Sluggo's 'Crab' Cakes
1 block firm tofu
1/4 green pepper, finely chopped
1/4 red pepper, finely chopped
>1/2 red onion, finely chopped
3 medium carrots, grated
2 celery stalks, diced
1/2 cup dried cornbread crumbs
1/2 cup vegan mayonnaise (try Vegenaise)
1/8 cup Dijon mustard
2 Tbsp. dill
1 Tbsp. dried basil
2 Tbsp. Cajun seasoning
1 tsp. white pepper
Salt, to taste
Japanese panko bread crumbs for coating the cakes
Oil for frying
Crumble the tofu into a mixing bowl. Add all the ingredients, except for the panko and oil, and stir together well, making sure that the cornbread crumbs are thoroughly mashed so that there aren't any big pieces. If the mixture is too wet, add another 1/4 cup of cornbread crumbs. If it's too dry, add a little more vegan mayonnaise.
Using your hands, roll about 1/4 cup of the mixture at a time into balls, then roll in the panko until coated. Flatten into cakes.
Heat the oil on a flat-top grill or in a large iron skillet until hot. Fry the cakes until golden brown.
Makes 3 servings
Respond