Protein-Packed Peanutty Salad
The following article was written by PETA intern Liat Segal.
Like many people I know, I sometimes get deterred from cooking when I find that I am missing most of the fancy, exotic ingredients a recipe calls for. So I love it when I can use perfectly ordinary ingredients to create a unique and tasty meal. And I'm an absolute fanatic when it comes to peanuts and peanut butter, so one of my personal favorites is the aptly named Peanutty Salad.
My favorite thing about this recipe (besides the peanut butter, of course) is that it's easy and fast. If you're anything like me, you don't have hours to spend cooking every time you want something tasty and healthy. This salad is so simple to make, you might find that you have time to do more with it: try adding dried cranberries, shredded carrots, or any of your favorite vegetables.
Whether you keep it basic or get creative, this salad is a great go-to meal option when you're in a rush and ready for lunch!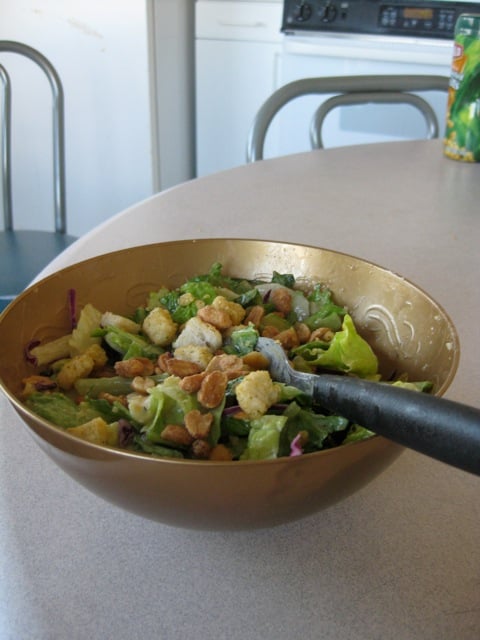 Peanutty Salad
1 cup prepared vegan Italian dressing
1/4 cup creamy or chunky peanut butter
1 head iceberg, leaf, and/or romaine lettuce, torn into bite-size pieces
Croutons
Sunflower seeds or chopped peanuts
Finely chopped green onions (optional)
In a small bowl, gradually blend the dressing into the peanut butter using a wire whisk.
Toss the lettuce, croutons, sunflower seeds or peanuts, and green onions in a large bowl. Separate into individual salad bowls and top with the peanut-butter dressing.
Makes 4 to 5 servings
Respond