'Portobellos, Chanterelles–No, I Like Shiitake'
|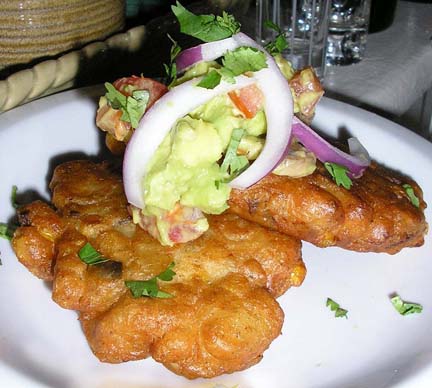 Fritters often seem like a bit of a snooze to me, but after trying corn-and-shiitake fritters based on a recipe I found in Food and Wine, I have completely changed my mind. The beauty of the recipe comes from the corn purée that is stirred into the batter. The combination of the purée and whole kernels leads to a strong corn flavor that perfectly complements the smokiness of the sautéed shiitakes and the sweetness of the onion.
The recipe below calls for fresh corn, but I have to admit that I used canned corn, and it was still delicious. I also topped mine with a dab of guacamole, sliced red onion, and cilantro, but the fritters are just as good on their own.
Corn-and-Shiitake Fritters
3 ears of corn, shucked and kernels removed
Egg replacer equivalent to 1 egg (I used Ener-G brand)
1/4 cup soy milk
1/2 cup plus 1 Tbsp. vegetable oil
3 large shiitake mushrooms (2 ounces), stems discarded and caps cut into 1/2-inch dice
1/4 cup diced sweet onion
3/4 cup all-purpose flour
1 tsp. baking powder
1 1/2 tsp. salt
1/2 tsp. black pepper
Place half of the corn kernels into a blender. Scrape the pulp from the cobs into the blender. Add the egg replacer and soy milk. Purée until smooth.
In a large nonstick skillet, heat the 1 Tbsp. of oil. Add the shiitakes and onion and cook over high heat, stirring occasionally, until lightly browned, about 5 minutes. Add the remaining corn and cook, stirring, for 1 minute. Transfer to a plate and place in the freezer for about 5 minutes, until no longer hot.
In a bowl, whisk together the flour, baking powder, salt, and pepper. Stir in the purée, and then fold in the cooled corn mixture.
Wipe out the skillet. Add the remaining 1/2 cup of oil and heat over medium-high heat. When hot, add 8 level, 1/4-cup mounds of batter to the skillet and spread each to a 1/2-inch thickness. Fry, turning once, until golden and crusty, about 4 minutes. Drain on paper towels and serve warm.
Garnish with red onion, cilantro, lime, or guacamole, if desired.
Makes 4 servings
Respond
In This Section