Poor Man's Pho
Written by
September 13, 2007
|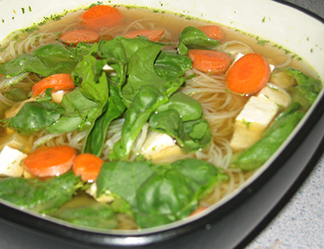 Many vegetarians have one meal they miss more than all others. I am very surprised to find that for many, that meal is pho.
Pho—pronounced "fuh"—is a traditional Vietnamese rice noodle soup that almost always contains thinly sliced strips of beef in a clear beef broth—a meal that is seemingly difficult to make into a tasty vegan version.
People reminisce about the comforting layered flavors, the strong aroma of the broth (which usually contains cinnamon, star anise, and ginger), and the variety of garnishes that you add at the table. Just a few of the standard options are mint, cilantro, basil, lemon, lime, bean sprouts, and chili peppers.
Luckily, the VRG has posted a popular recipe for vegetarian pho bo that contains a rich broth. The broth, made from charred ginger to enhance the flavor, acted as the perfect base for my version of pho that I like to call "Poor Man's Pho." It's one of those "I'm going to make do with whatever random vegetables I have in my refrigerator right now" kind of meals.
I used VRG's Vegetarian Vietnamese broth as a start, then substituted seitan for tofu and spinach for the cabbage and finished the soup off by adding carrots and shiitake mushrooms. Of course, I piled on the Sriracha, because no pho is complete without it. The beauty of this soup is that the broth and the rice noodles are the key ingredients, so from there you can add what you like.
Now, when I eat a bowl of this delicious pho, I can close my eyes and imagine myself on the bustling streets of a Vietnamese city and be happy to know that there are vegans out there who are no longer missing their favorite meal.
Respond
In This Section