Pooh Bear Smoothie
The following article was written by Carissa Leventis-Cox of Mama in the Kitchen, and she ain't cookin'!
I can't say it's always easy feeding my family vegetables. Fruits are easy, but vegetables can be tough—particularly greens. Sometimes, as soon as my son sees a huge plate of salad in front of him, he sulks and says, "Oh no! Not again! Why can't I just drink my favorite smoothie?"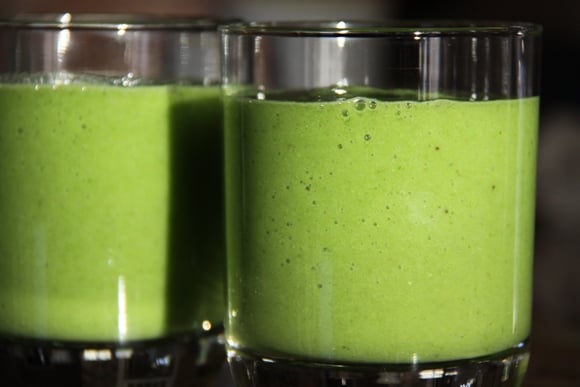 Admittedly, the easiest way to get my son to eat more greens is through green smoothies. My husband and son love them with breakfast, lunch, or dinner or as a snack. I will make a big batch to last one to two days in order to make sure there's always some available in the fridge.
Here is a recipe for our basic smoothie, which my son says "tastes just like honey" (although the recipe only contains fruit), which is why we have named it our "Pooh Bear Smoothie." We enjoy it several times a week―hope you do too!
Pooh Bear Smoothie
2 dates (optional, but children prefer a sweeter smoothie)
2 cups or 2 big pieces seasonal fruit*
3 bananas (I sometimes freeze my bananas for a cooler drink in the spring and summer)
4 cups seasonal leafy greens (or more)
2 cups water (less or more depending on your preferred consistency)
Purée all the ingredients in a high-speed blender.
Makes 4 servings
*We love pears, mangos, and berries, but any seasonal fruit will do. In the fall, use pears, persimmons, pineapples, and pomegranates. In winter, try citrus fruits and pears. In spring, use apricots, mangos, pineapples, and strawberries. In the summer, berries, pitted cherries, figs, and peaches are great.
Respond