Pomegranate-Apple Cider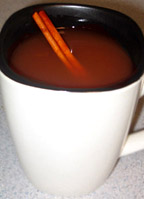 Evidence of cider consumption dates back to Caesar and Charlemagne and was made popular in the U.S. with a little help from ole Johnny Appleseed. I'm pretty sure that the cider these folks were knocking back would require you to show a proof-of-age ID today—or at least a fake.
In recent years, alcoholic and non-alcoholic ciders alike have been gaining popularity, and just as with all other foods and beverages, people are looking for new and exciting ways to serve up these classics.
The non-alcoholic spiced cider recipe given to me is made largely from pomegranate juice—maybe for an even bigger antioxidant punch—and incorporates dried fruit and zesty lemon. The flavors combine to offer a nice kick—certainly very different from what Caesar was used to.
Pomegranate-Apple Cider
4 cups pomegranate juice
3 cups cider
6 dried pears
6 dried apples
2 to 3 strips lemon zest
5 cardamom pods
1 cinnamon stick
5 allspice berries
•Put the pomegranate juice and the cider in a large nonreactive pot along with the dried fruits, lemon zest, and spices. Warm gently over low heat, stirring occasionally, until fragrant, about 30 minutes. Take care not to let the mixture boil.
•Serve in clear mugs or glasses with spices and dried fruit. Add a splash of your favorite liquor if desired.
Respond