Poblano and Onion Hash Browns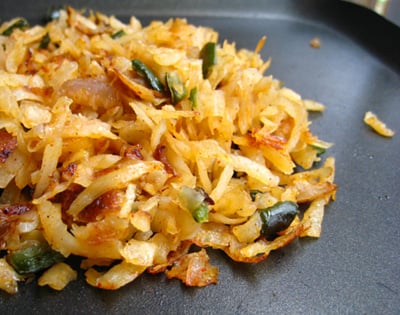 Scattered, smothered, and peppered—in Waffle House speak, this means hash browns that are scattered on the grill (instead of cooked together like a potato pancake), smothered with diced onions, and peppered with jalapeños.
My version of "scattered, smothered, and peppered" means almost the same thing, but I like to get a little more creative with the peppers. Instead of using jalapeños, which are the Waffle House standard, my Sunday morning hash browns are made with a flavorful poblano pepper. To spice things up even more, I add a few dashes of chili powder and black pepper.
If you like very, very crispy hash browns, be sure not to stir the potatoes while they're cooking. Only flip them once, and you'll be more likely to achieve the crispy, golden-brown exterior that you're going for.
Also, depending on the size of your pan, it may be helpful to cook the hash browns in two batches. My preference is for hash browns that are well done, yet only slightly crispy, but to each their own.
I'd love to know: what is your favorite way to eat hash browns?
Poblano and Onion Hash Browns
2 medium baking potatoes, peeled and shredded
1/2 medium onion, diced
1 poblano pepper, diced
2 Tbsp. oil
1 Tbsp. chili powder, or to taste
Salt and pepper, to taste
•Soak the shredded potatoes in cold water for about 30 minutes. Drain and pat dry with paper towels, removing as much moisture as possible.
•In a large bowl, combine the shredded potatoes, onion, and poblano pepper and stir.
•Place a large, heavy skillet over medium-high heat and add the oil. Once hot, add the potato mixture, sprinkle with half the chili powder and cook until the bottom begins to brown (about 5 to 7 minutes).
•Flip over, or stir, the hash browns. Add the remaining chili powder and cook for an additional 5 to 7 minutes. Once desired crispiness is achieved, season with salt and pepper, if desired, and serve.
Makes 4 servings
Related Posts
Respond