'At the Playground, Ya Know'
Written by
August 28, 2007
|
Yep, it's that time of year that children dread and parents love—back to school. To me, that means two things: I can look forward to new posts from Jennifer on the
Vegan Lunch Box
, and I can feel less guilty for having "Iesha" by
A.B.C.
stuck in my head. Come on, it is a song about preteens falling in love on the playground, so this has to be the one time I can get away with singing it, right?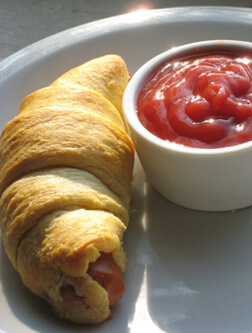 For parents in need of a few super-easy lunches suitable for any playground, try some of Jennifer's favorite Schmoo lunchtime tips:
Create a crunchy triple-decker PB&J: Cut rice or corn cakes in half with a sharp knife and spread on jam and your kid's favorite nut butter. Top with the other half, and you have a crunchy and nutritious meal.
Make veggie dogs in a blanket—wrap a veggie dog in a crescent roll and bake. Serve with little containers of ketchup and mustard for dipping.
"Shake 'N Bake" mock chicken chunks instead of the real thing. Several Shake 'N Bake flavors are vegan—just use chopped Morningstar Farms Meal Starters Chik'n Strips or WhiteWave's wheat meat. They're great hot or cold.
Cut up veggie dogs and cook them with vegetarian baked beans for beans and franks. Pack hot in a thermos with crackers or soy cheese.
Mini pita sandwiches are always a hit! Cut mini pitas open and stuff with your child's favorite sandwich fillings. Anything goes, from hummus and tomatoes to veggie burger crumbles to marinara sauce and veggie pepperoni.
Be sure to check out "Pack a Lunch With Punch!" All you'll need is a kid-approved lunchbox—for me, that was an old-school metal Strawberry Shortcake lunchbox—and a few minutes of your day to make these easy meals.
Respond
In This Section