The Plantain: Starchy, Sweet, Oily Goodness
Written by
August 30, 2007
|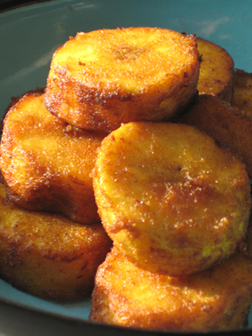 My 2006 visit to Ghana sparked what was definitely my greatest food obsession of last year—plantains. They can be starchy, sweet, salty, oily goodness all at the same time.
Outside the Kakum rain forest, I bought bags of thinly sliced plantains fried into salty chips. In restaurants, I would eat fried plantains with "red-red"—black-eyed peas served in a spicy, oily tomato sauce—more than once a day. And on bus rides across the country, I would see roadside stands selling whole roasted plantains. I thought it looked easy enough.
When I returned to the U.S., I tried grilling a whole bright-green plantain after removing the skin. If you have ever cooked a plantain, you know that this obviously did not work. The plantain dried out and became hard as a rock because it was nowhere near ripe.
I had better luck with my plantains after doing a little research. I found that preparation can be as simple and healthy as boiling a whole unpeeled plantain for 15 to 20 minutes or as sinful as deep-frying diagonally sliced ripe plantains. "Kelewele" is a spicy fried plantain dish that I tried in Ghana and was lucky enough to find a recipe for when I returned to the U.S. I ate this with what was my attempt at red-red, and they tasted just as I remembered.
Kelewele (Spicy Fried Plantains)
Oil for frying
4 ripe plantains, peeled and sliced into 1/2-inch-thick rounds
4 tsp. lemon juice
4 tsp. ground ginger
4 tsp. cayenne pepper
Heat 1/4 inch of oil in a heavy skillet over medium heat.
In a bowl, combine the plantains and lemon juice, stirring carefully to moisten.
In a separate bowl, combine the ginger and pepper.
Roll the plantains in the spice mixture and fry until crisp and golden.
Makes 6 to 8 servings
Respond
In This Section