Plant Protein Powder Power!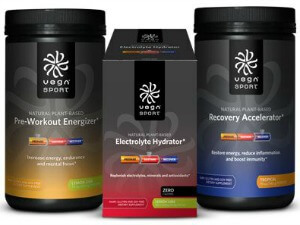 The following article was written by Jessica Getty.
The most common question a vegan or vegetarian athlete hears is "How do you get enough protein?" Whether you are training to run a marathon or just want get the most out of your workouts, protein is important to help your muscles repair and recover after an intense workout. While there is protein in almost everything—beans, grains, nuts, tofu, and even veggies—some folks opt to increase their intake with protein powders.
Luckily, there are many cruelty-free protein powder options to choose from. Hemp protein, rice protein, pea protein, and soy protein are just a few examples, and they come in many forms and flavored blends. Finding the right protein powder can be an overwhelming experiment as there are so many flavors and formulas. We're here to help!
Brendan Brazier, the PETA Pack team spokesperson and vegan professional Ironman triathlete, offers a line of protein powders that are packed with vitamins, minerals, antioxidants, enzymes, fiber, probiotics, and superfoods. The new Vega Sport powders help your body prepare, sustain, and recover before, during, and after tough workouts. The best things about Vega are that it is 100 percent plant-based; is free from milk, gluten, and soy; and contains no artificial flavors, colors, or sweeteners. Just whip up a yummy shake 30 to 90 minutes before your workout and sit back as your muscles prepare! The powder comes in various flavors, including vanilla chai, chocolate, and berry.
Hundreds of protein shakes later, I have discovered that hemp protein powders are among my favorites. While hemp is certainly an acquired taste, I've grown to appreciate the nutty aroma. After all, hemp is a nutritional powerhouse, containing all nine essential amino acids that our bodies require and an almost perfect balance of fiber, antioxidants, and fatty acids such as omega-3 and omega-6. The flavor can be easily hidden in smoothies, which you'll find endless recipes for at BlendedRecipes.com.
If you are looking to try a protein powder, then check out your local Whole Foods Market or Trader Joes. There are a lot of options out there, so don't get overwhelmed. Finding my favorite protein powder involved a lot of trial and error … with an emphasis on "error"! The next time someone asks you the inevitable question about protein, just tell him or her that being vegan doesn't mean you have to compromise on protein intake.
Do you have a favorite vegan protein powder or shake recipe? Share it with us in the comments section below!
Want your workouts to count for animals? Join the PETA Pack and team-train to run a half-marathon in support of PETA's Investigations & Rescue Fund! You'll get in shape, meet new people, help animals, and have fun. Register today!
Respond