Pizza Bianca Surprise
Written by
Amy Snyder
|
August 24, 2007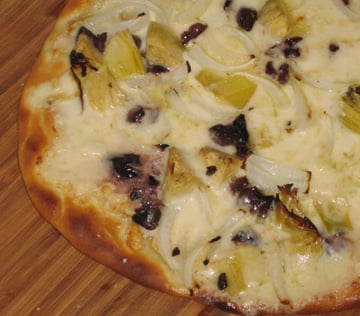 One of the best feelings in the world is going home—after being stuck at work late on a Friday night—to find freshly baked pizza waiting for you in your apartment. I'm not talking about just any old pizza, but pizza bianca with a homemade dough, enough garlic to kill a vampire, vegan cheese, fancy kalamata olives, and marinated artichoke hearts.
Several sites define pizza bianca as a flat bread topped with only olive oil and salt, while others say the most common toppings are garlic, olive oil, some type of cheese, and herbs. I will choose to believe the second definition.
On this particular Friday night, the person doing the surprising was my boyfriend. I would say he is a bit of a pizza expert—still using the same pizza pans he received at the age of 12 and always making fresh dough using a recipe taught to him by his grandmother. She would stay up late and make fresh pizzas for her husband—long after the children had gone to sleep—as a Depression-era special treat just for the adults.
She eventually passed her recipe on to my boyfriend, who enjoyed spending time in the kitchen and learning how to cook from his grandmother when he wasn't busy with one of his many bands or general hell-raising. His cooking has definitely come a long way since then, when he would surprise his dad with a meal that consisted of only chili-cheese fries. Now he surprises me with delicious pizza.
Pizza Bianca  
For the Dough:
1 1/2 tsp. active dry yeast
1/4 cup lukewarm water (105°F)
1/2 cup cold water
1 1/2 Tbsp. olive oil
3/4 tsp. salt
2 cups unbleached all-purpose flour
Mix the yeast with the lukewarm water in a large bowl and let stand for 10 minutes.
Stir in the cold water, oil, salt, and 1/2 cup of the flour. Stir in the remaining flour 1/2 cup at a time.
Knead the dough for 8 to 10 minutes, then cover with a towel and let rest for 15 minutes.
Divide the dough into 2 portions. Knead briefly, then shape into 2 balls. Place each in a separate bowl, cover, and let rest for 1 hour.
To Assemble:
1/4 cup extra-virgin olive oil
10 cloves minced garlic
1 pkg. shredded vegan cheese (try Follow Your Heart's "mozzarella")
1/4 cup sliced onion
1/4 cup sliced kalamata olives
1/4 cup quartered artichoke hearts*
Salt and pepper, to taste
While the dough is rising, combine the olive oil with the garlic and let sit.
When the dough is ready, press each ball into a 10- to 12-inch pizza pan, shaping to your desired thickness. Top each with 1/2 the olive oil and garlic mixture.
Sprinkle 1/2 the "cheese" onto each pizza, using less if you prefer. Top with the onions, olives, and artichokes.
Bake at 500°F for 8 to 9 minutes. Place under the broiler for the last 30 seconds to melt the "cheese."
Makes 2 pizzas
*Note: To save time, try using marinated canned or jarred artichoke hearts.
Respond