Pickling: The Good, the Bad, and the Ugly
Written by
September 14, 2007
|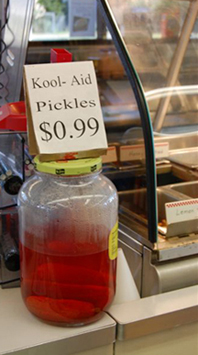 On a recent trip to a Norfolk gas station, I encountered the infamous Kool-Aid pickle—we can refer to him as Tuco. This was a pickling experiment gone very wrong. Tuco, the grotesque and non-edible red pickle, would be more appropriate starring in a B-horror flick than sitting proudly on a counter.
After trying the Kool-Aid pickle, I needed to reassure myself that pickling can actually be good. My grandmother used to make the most amazing pickled garlic, so I decided to find her recipe and try it myself.
The result was crisp and spicy. I used a large dried chili, but if you can't take the heat, use the smallest dried chili you can find. The garlic was perfect on salads, in wraps, and all by itself as an appetizer. An added perk to pickling is that it takes minimal effort to make and keeps for up to a year.
Your pickling ways don't have to end with garlic and cucumbers. Try kimchi—the Korean staple usually made of cabbage—or giardiniera, the Italian topping often served on Chicago-style sandwiches. Or keep it simple and try pickled okra, ginger, or asparagus. I promise that none of these will look quite as scary as Tuco the Kool-Aid pickle.
Spicy Pickled Garlic
1/2 cup white wine vinegar
1/2 cup dry white wine
1 dried chili pepper
1 sprig thyme
1 sprig rosemary
1 bay leaf
10 mixed peppercorns (black, pink, white)
2 tsp. sugar
1/2 tsp. pickling slat
1 cup fresh peeled garlic cloves
In a nonreactive saucepan over medium heat, combine all the ingredients except the garlic. Bring to a boil and cook for 5 minutes.
Add the garlic and return to a boil. Cover and remove from the heat. Let sit at room temperature for 24 hours.
Place the saucepan over medium heat and bring to a boil again. Carefully transfer to a 1/2-pint jar. Let cool.
Cover tightly and place in the refrigerator. The garlic will be ready to eat in 5 days and can be stored in the refrigerator for up to a year.
Makes 1 quart
Related Posts
Respond
In This Section