P.F. Chang's Chinese Bistro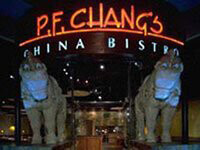 Home Office:
15210 N. Scottsdale Rd., Ste. 300 Scottsdale, AZ 85254
Tel.: 602-957-8986
Fax: 602-957-8998
www.PFChangs.com
Chinese Food That Makes You Come Back for More—But Not Because You're Still Hungry
There is a Chinese revolution taking America by storm—it's hip, delicious, and surprisingly inexpensive.
With 77 restaurants across the United States and more opening each month, the P.F. Chang's restaurant chain has discovered a recipe for success. An upbeat, bustling atmosphere, good service, valet parking, and delicious, vegan food have diners lining up for tables, sometimes for hours (although starters are served in the bar).
"I've never eaten anything like their pressed bean curd. It is cheat meat," said PETA staffer Wyatt Fawns, who loves the Vegetarian Lettuce Wraps and the Kung Pao Bean Curd. "It's weird. Even before I finish one bite of their Kung Pao, I'm looking forward to the next."
Other PETA staff recommendations are Chang's Bean Curd, Coconut-Curry Vegetables, and Ma Po Bean Curd.
Here's the best part: The kitchen will convert any meat dish into a vegan one by substituting tofu, five-spice pressed bean curd, and vegan "oyster" sauce. P.F. Chang's recommends using tofu in mild dishes and pressed bean curd in the spicier entrées.
The vegan-friendly attitude of P.F. Chang's is largely due to the number of requests that management receives for meatless cuisine. Vegan dishes are among the bestsellers. One manager told PETA Eats that most people prefer the vegetarian lettuce wraps over those with chicken. Wok-seared tofu, red onions, and water chestnuts with hints of mint and lime and served with cool lettuce leaves are a combination that few can turn down.
Recipes From P.F. Chang's Chinese Bistro
Singapore Street Noodles
2 gal. water
1 lb. package rice sticks (available at Asian markets)
4 Tbsp. canola oil
8 oz. faux "shrimp" and 8 oz. diced faux "chicken"
or 1 lb. extra firm tofu pressed dry, diced
1 Tbsp. garlic, chopped
1 cup cabbage, julienned
1/2 cup carrots, julienned
2 medium tomatoes, diced
1 cup Singapore Sauce (see recipe below)
1 bunch scallions (just the green part), cut into 2-in. pieces
1/4 bunch cilantro, coarsely chopped
1 tsp. sesame oil
1/3 cup fried shallots (optional, available at Asian markets)
1 lime, quartered
Bring water to a rolling boil. Place rice sticks into boiling water for 2 minutes (just until soft), then drain into a colander. Immediately rinse under hot water for 1 minute. Drain well (the noodles should still be slightly warm). Toss with 2 Tbsp. of oil and set aside. In a hot wok stir-fry faux "shrimp" and faux "chicken" or tofu with 2 Tbsp. of oil until just done (approximately 2 minutes). Add garlic, cabbage, carrots, and tomatoes and stir-fry for 1 minute. Add rice stick noodles and stir-fry for one minute. Add Singapore Sauce and stir-fry until all ingredients are well mixed (approximately 2 minutes). Add scallions, cilantro, and sesame oil and toss briefly. Sprinkle with fried shallots, then garnish with a lime wedge.
Singapore Sauce
2 Tbsp. white vinegar
1/4 cup Madras curry powder
Pinch of turmeric (optional)
1/4 cup light soy sauce
1 cup vegetarian oyster sauce
1/4 cup chili sauce
1/4 cup ketchup
Combine vinegar, curry powder, and turmeric. Mix well until powders are well dissolved. Add remaining ingredients and mix well. Set aside.
Makes 4 servings.
Respond