The Perks of Eating Grass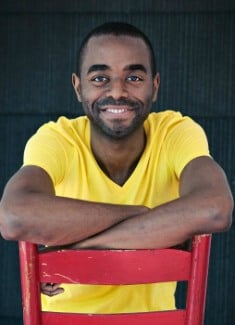 He's been vegan since birth—back before PETA even existed and "vegan" was hardly part of the American vocabulary. Now chef Ayinde Howell is running a vegan restaurant, and his food is a hot commodity.
Ayinde says the ticket to changing people's minds about eating vegan is to change the way in which they taste—and he's doing just that, cooking up fresh, real, delicious vegan meals.
We caught up with him to learn a little more about his own path as a vegan, what he thinks about the food that he cooks, and his thoughts on the vegan food revolution.
You've been vegan your whole life. Tell us about being vegan as a kid. What did you think of it then?
Growing up vegan was definitely not the norm. I was also home-schooled until high school, so it was relative. I knew I was weird because the kids in the neighborhood made sure to tell me that. They'd make jokes about how we must have eaten grass at home. Back then, you could say "vegetarian," and that was odd enough—the word "vegan" was not even in the American lexicon like it is today.
In my early years, I was vegan even before PETA officially existed, so the awareness just was not there. But back then, it was just the way we ate. It was different, but luckily I really liked tofu and never "cheated."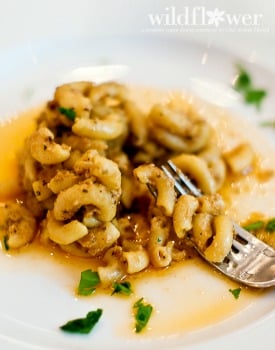 Describe your food to us. What sets it apart from other vegan fare?
Well, I'm the only chef I know—outside of my sisters—who has been vegan since birth. I've been practicing how to keep it interesting for many years. Being an executive chef for 12-plus years and serving mostly nonvegans throughout my career has given me a keen sense of what works for omnivores and vegans alike. I focus on flavor, texture, and familiarity without being a "fake" or "faux" anything. People ask me if I make any fake meat stuff. I say, "No, I only make real food."
As a chef, what role do you play in furthering the vegan food movement?
The tagline on my vegan lifestyle site, IEatGrass.com, is "Feeding the Revolution." The bottom line is you cannot change people's minds unless you change how they taste. Food is more than politics—it's emotions, memories, comfort. It's what your mom made. So to say, "Walk away from all that," you have to be able to feed all of those complex human idiosyncrasies—in the first bite.
My role is making sure that when people make the conscious change to become vegan that they have a good meal waiting at home for them, which is why I take my "show on the road" with my culinary event Wildflower—to show people how it can be and what is coming.
When you're not cooking for others, what kind of foods do you mow in your free time?
I get in ruts. Because it's my work, I get lazy and will live off cereal or a quick pita pizza, but the meal I'm most likely to cook is breakfast. I love breakfast.
To learn more check Ayinde on Facebook, Twitter, and on Instagram at @ayinde.
*****
What do you think will make the vegan food revolution effective? Let us know in the comments section below!
Related Posts
Respond
In This Section