Perfect Weekend Brunch: Vegan 'Eggs' Benedict
Weekend brunch is a weekly event out here on the West Coast. I'm lucky that there are so many vegan-friendly restaurants in my area where I can enjoy things like vegan "chicken" and waffles, French toast, and tofu scrambles on an endless loop. But, I'm looking to save some cash and wanting to expand my cooking repertoire, so I decided to whip up a rave-worthy brunch of my own. The challenge? The vegan "eggs" Benedict.
Mission accomplished. Completely devoid of cruelty and cholesterol, the recipe below is yours for the taking.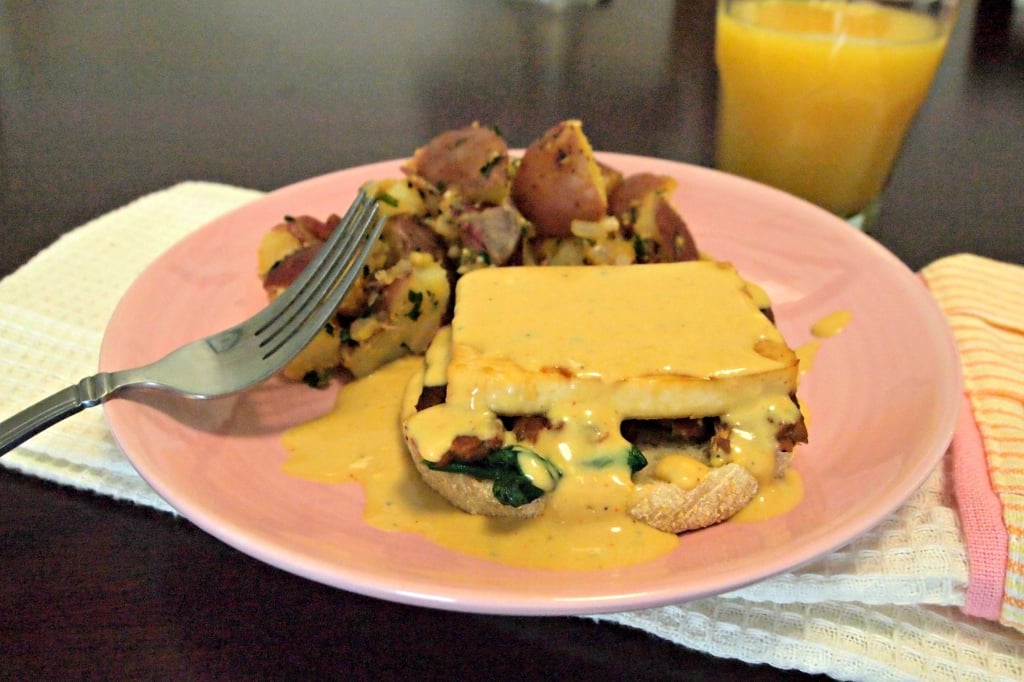 Looking to cut some calories from this decadent dish? I suggest omitting the faux meat and using the hollandaise sauce sparingly. Don't want to sacrifice those two? Limit your serving to a single Benedict, and save the other half for later. 😉 Enjoy!
Vegan 'Eggs' Benedict
14 oz. baby spinach
2 tsp. olive oil
8 slices of extra-firm tofu (about half a block)
Soy sauce
4 vegan English muffins, sliced and toasted
8 servings of your favorite faux breakfast meat, cooked according to package instructions
Tbsp. white wine vinegar
3 Tbsp. vegan mayonnaise
2 Tbsp. vegan margarine, melted
1 Tbsp. spicy brown mustard
1 Tbsp. soy sauce
1/2 cup plain soy milk
1/4 cup nutritional yeast
1/2 tsp. paprika
1/2 tsp. turmeric
1 Tbsp. lemon juice
1/2 tsp. apple cider vinegar
1 tsp. freshly ground black pepper
1 tsp. sea salt
Sauté the spinach in 1 teaspoonful of olive oil. Set aside.
Fry the tofu in the remaining teaspoonful of olive oil and the soy sauce.
Preheat the oven to 300°F.
Combine all remaining ingredients and heat over a stove top or in a microwave to make a Hollandaise sauce.
Layer your Benedict starting with one half of an English muffin. Top with sautéed spinach, then faux-meat, and then finally a slice of tofu.
Heat in the oven for about 5 to 8 minutes.
Pour the Hollandaise over your layered "eggs" Benedict and serve immediately.
Makes 4 servings
What's your favorite vegan brunch meal? Share with me in the comments below!
Respond