From PB&J to Vegan Gourmet
The following article was written by Jessica Zaehringer.
Here is my top choice for a "gourmet" meal, thanks to the help of my mother. My mom, who used to ask me every night before school, "Are you sure you want PB&J for lunch again?" still thinks it's odd that I hate to cook, but she offered me a variety of recipes that she knew I could whip up. Tofu lo mein is my favorite because it's simple to make, the ingredients are easy to find, and dinner guests get to taste how scrumptious vegan food really is.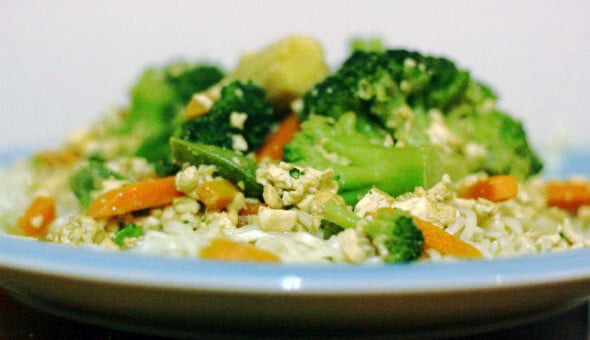 Tofu Lo Mein
1 pkg. tofu
2 Tbsp. olive oil
1 1/2 cups water
2 pkg. oriental-flavored ramen noodles
1 pkg. frozen vegetables
1 Tbsp. soy sauce
Press the tofu between two paper towels to remove some of the water. Cut into bite-size cubes.
Heat the olive oil in a large skillet over medium-high heat.
Add the tofu and cook for about 10 minutes, stirring occasionally.
Meanwhile, bring the water to a boil in a medium saucepan. Add the noodles from the ramen packages but not the seasoning. Boil for about 2 minutes, just until the noodles break apart, then drain.
Add the frozen vegetables to the pan with the tofu and season with the ramen noodle seasoning packets. Stir occasionally, until the vegetables are tender but not mushy.
Add the vegetables and the tofu to the bowl of ramen noodles and stir to blend.
Add the soy sauce.
Makes 6 servings
In the end, I am still not a food snob or a foodie, but you don't need to be one to know what tastes delicious. If you have a cheap and easy recipe, please share it in the comments section below. I always love trying new foods!
Respond