Oven Baked French Fries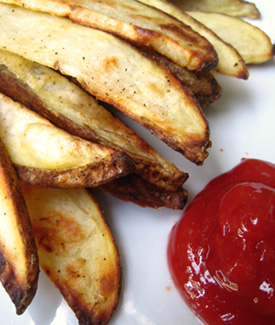 One recipe that is easy to make healthier, without sacrificing flavor, is French fries.
By oven baking French fries, you can still achieve a crunchy exterior and soft interior, but you don't have to use nearly as much oil. I actually find that by baking, you increase the amount of flavor instead of covering it with heavy oil.
Enjoy these with a veggie burger or veggie dogs, or just eat so many that you couldn't possibly put anything else in your mouth. I know exactly how I'll be eating mine—with a kiddie-pool-sized side of ketchup and Vegenaise.
Enjoy!
Oven Fries
5 medium potatoes
2 Tbsp. olive oil
2 tsp. onion powder
1/2 tsp. garlic powder
Salt and pepper, to taste
Preheat the oven to 400°F.
Wash and scrub the potatoes, leaving on the skins. Slice the potatoes lengthwise 1/4 inch thick. Cut the slices in half lengthwise. Put in a bowl and add the remaining ingredients. Mix well.
Spread on a greased cookie sheet. Bake for 20 minutes, check for doneness, and then continue baking for up to 20 minutes more, until as crispy as you like.
Makes 4 cups
Respond