Oven Baked French Fries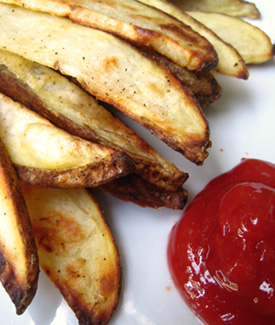 I have three words for you: three-day weekend! Yes, a long holiday weekend is here, and it's one typically celebrated with backyard barbecues and comfort food. Many women, myself included, want the comfort but not the calories that come with these meals.
Luckily, it's easy to take some quintessential guilty pleasures and make them closer to food that is guilt-free. One recipe that is easy to make healthier, without sacrificing flavor, is French fries.
By oven baking French fries, you can still achieve a crunchy exterior and soft interior, but you don't have to use nearly as much oil. I actually find that by baking, you increase the amount of flavor instead of covering it with heavy oil.
Enjoy these with a veggie burger or veggie dogs, or just eat so many that you couldn't possibly put anything else in your mouth. I know exactly how I'll be eating mine—with a kiddie-pool-sized side of ketchup and Vegenaise.
Enjoy!
Oven Fries
5 medium potatoes
2 Tbsp. olive oil
2 tsp. onion powder
1/2 tsp. garlic powder
Salt and pepper, to taste
•Preheat the oven to 400°F.
•Wash and scrub the potatoes, leaving on the skins. Slice the potatoes lengthwise 1/4 inch thick. Cut the slices in half lengthwise. Put in a bowl and add the remaining ingredients. Mix well.
•Spread on a greased cookie sheet. Bake for 20 minutes, check for doneness, and then continue baking for up to 20 minutes more, until as crispy as you like.
Makes 4 cups
Respond
In This Section