Order Sue Coe's New Book Now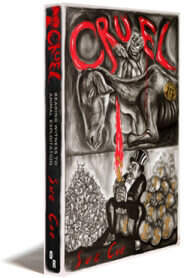 Whether you're just contemplating going vegetarian for the first time or you're someone with 10 years of animal rights activism under your belt, viewing the haunting illustrations by veteran animal defender and renowned illustrator Sue Coe is guaranteed to have a profound and lasting effect on you.
Coe's latest work, Cruel: Bearing Witness to Animal Exploitation—which PETA President Ingrid E. Newkirk called "mind-blowingly honest" and "mesmerizing"—is no exception. Replete with captivating paintings and drawings, Cruel takes a long, hard look at factory farming and its horrific toll on billions of animals, from the viewpoint of a woman who grew up next to a hog farm and one block from a slaughterhouse.
Cruel is a must-read for anyone who's willing to look the hideous meat industry square in the eye and never be at a loss for words when someone asks, "So, what you made you go vegetarian?" In addition to factory farming, Coe delves into the pain and suffering inherent in commercial fishing, the wool industry, and other areas of animal exploitation.
Sue Coe's work sticks with you in a way that many other writers and illustrators can only dream of. So don't pass up this opportunity to save big on the latest work by one of the most compelling and talented activists of our time. Order your very own copy of Cruel now!
Respond