Orange-Cranberry Scones: A Monday Morning Treat
Written by
August 6, 2007
|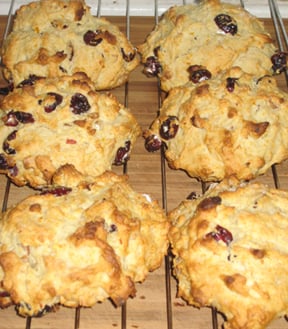 My entire weekend was spent lounging, relaxing, reading, and baking. It was so relaxing that it felt more like a mini-vacation than your typical two-day weekend. After such a great weekend, I didn't even mind waking up very, very early this morning. So I decided to spread the joy to my coworkers—in a not-so-annoying way—by bringing in one of the many treats that I baked over the weekend.
After reading Danielle Vance's chef profile over the weekend—and daydreaming about having my own bakery—I decided to try her orange-cranberry scone recipe. The recipe was simple and super-easy to prepare, but the results were still delicious. The orange zest and the O.J. I used gave the scones a fresh taste—not too heavy, as scones can often be.
I decided that these would be the perfect treats for my peeps in the office, and after hearing everyone's reactions—lots of "awesomes" and "to die fors"—I knew I made the right choice.
Orange-Cranberry Scones
by Danielle Vance
2 cups all-purpose flour
1 cup whole-wheat flour
4 tsp. baking powder
1/2 tsp. salt
2/3 cup dried cranberries
2/3 cup walnuts, chopped
6 Tbsp. canola oil
1/2 cup maple syrup
2/3 cup orange juice
Zest of 2 large oranges
Preheat the oven to 425ºF.
Sift together both the flours, the baking powder, and the salt in a large bowl. Add the cranberries and walnuts. Combine and set aside.
In another bowl, combine the oil, maple syrup, and orange juice and zest. Add to the dry ingredients and mix to form a dough.
Scoop by the tablespoonful onto a cookie sheet. Bake for about 12 minutes, or until golden.
Let cool before serving.
Makes 13 servings
Respond
In This Section