Olive and Artichoke-Stuffed Ravioli
Ravioli often comes stuffed with some type of cheese, but for those willing to make their own pasta dough, the cheese can easily be replaced with another delicious filling. One great option is a filling that uses olives as the base.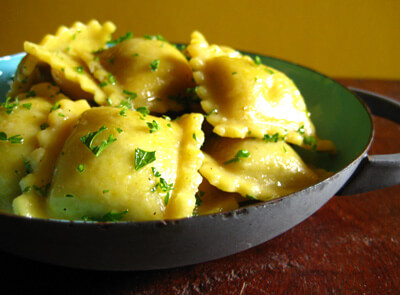 For my first attempt at ravioli using my new pasta machine and ravioli cutters—two of the many, many kitchen tools I recently received—I decided to try out an olive-based filling mixed with artichokes. Just think about how oily and salty and delicious a black or green olive tapenade can be. With little more than olives, garlic, and some herbs, you can create a savory mixture that actually stickers together without an additional binder. And this is exactly what you need for a ravioli filling. When you dig your fork and knife into the individual pasta pouches, you don't want the ingredients to come falling out separately. You need a mixture that will hold up.
Since I had little experience with a pasta machine—previous attempts at homemade ravioli were done with a long water bottle and cookie cutters—I borrowed great "how to" instructions from Epicurious.com. With my tools and recipes, plus their instructions, the ravioli was easier to make (and more delicious!) than I anticipated. And definitely worth making at home. Enjoy!
Olive- and Artichoke-Stuffed Ravioli
2 Tbsp. olive oil
1/2 cup onion, finely diced
1/2 cup frozen artichoke hearts, thawed and patted dry
1/2 cup black olives, finely chopped
1/4 cup chopped, fresh flat-leaf parsley
1 clove garlic, minced
1/2 tsp. lemon juice
1/4 tsp. salt
1/4 tsp. black pepper
Homemade pasta dough
Heat the olive oil in a large skillet over medium-high heat. Add the onion and sauté, stirring occasionally, until golden, about 6 minutes. Add the artichoke hearts and sauté, stirring occasionally, until tender, 8 to 10 minutes. Remove from the heat and cool slightly.
Transfer to the bowl of a food processor, then add the olives, parsley, garlic, lemon juice, salt, and pepper, and pulse until coarsely chopped.
Cut the pasta dough into 6 pieces, then flatten each piece into a rough rectangle and cover with an inverted large bowl. Set the rollers of a pasta machine on the widest setting.
Lightly dust 1 rectangle with flour and feed through the rollers. (Keep the remaining rectangles under the bowl.) Fold the rectangle in half and feed it, folded end first, through the rollers 7 or 8 more times, folding it in half each time and feeding the folded end through. Dust with flour if necessary to prevent sticking. Turn the dial to the next (narrower) setting and feed the dough through the rollers without folding. Continue to feed the dough through the rollers once at each setting, without folding, ending with the narrowest setting. The dough will be a smooth sheet about 24 inches long and 4 inches wide.
Put the sheet of dough on a floured work surface and drop 6 (1 1/2-teaspoon) mounds of filling 1 1/2 inches apart in a row down the center of one half of the sheet. Moisten the area around the filling with water, then fold the other half of the sheet over the filling. Press down firmly around each mound, forcing any air out. (Air pockets increase the chance that the ravioli will break during cooking.) Cut the pasta (between the mounds) with a cutter.
Line a large, shallow baking pan with a clean kitchen towel (not terry cloth) and dust the towel with flour. Arrange the ravioli on top in a single layer. Make more ravioli with the remaining pasta dough, 1 sheet at a time, and the remaining filling, transferring the ravioli to the lined pan.
Bring a 6- to 8-quart pot of salted water to a boil. Add the ravioli, stirring carefully to separate, and cook at a gentle boil until just tender, about 5 minutes. Transfer with a slotted spoon to a colander.
Toss the ravioli in olive oil and herbs or your favorite sauce and serve warm.
Makes 6 servings
Respond