Oatmeal-Raisin Cookies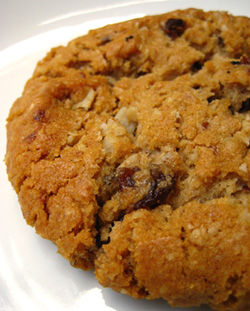 Chewy and crunchy, healthy yet indulgent—this is why I love oatmeal-raisin cookies. It's not so much about the individual ingredients but the way they work together. You'll even find people who despise oatmeal or raisins on their own but can't resist them when they are rolled up together into the form of a cookie.
The key to making chewy cookies is making sure that you have enough fat and liquid in the recipe and, more importantly, not over-baking! This is crucial. Leaving cookies in the oven too long will leave you with all crunch and no chew. In this recipe, the crunch should come from the oats, not a long baking time that turns cookies into cardboard.
And please note that I'm using the term "healthy" very loosely. These cookies aren't exactly low-fat, low-calorie, or low-anything. They're just not as bad as, say, chocolate-chocolate chip cookies because they do have raisins and oatmeal. You can make them healthier by swapping out some of the white flour for wheat flour and reducing the sugar if you're OK with a cookie that isn't as sweet.
Enjoy!
Oatmeal-Raisin Cookies
1 cup oil
Egg Replacer, equivalent to 3 eggs
1 tsp. vanilla
3/4 cup sugar
3/4 cup brown sugar
1 1/2 cups flour
1 tsp. baking soda
1 tsp. salt
3/4 tsp. ground cinnamon
2 1/2 cups rolled oats
1/2 cup raisins
•Preheat the oven to 350°F. Lightly grease a baking sheet.
•In a medium bowl, combine the oil, egg replacer, and vanilla. Set aside.
•In another bowl, combine the sugars, flour, baking soda, salt, and cinnamon. Mix into the wet ingredients. Stir in the oats and the raisins until just combined.
•Drop by tablespoonfuls onto the baking sheet. Bake for 8 to 10 minutes or until the edges are lightly browned.
Makes approximately 2 dozen
Respond