NOLA Classic: The Muffuletta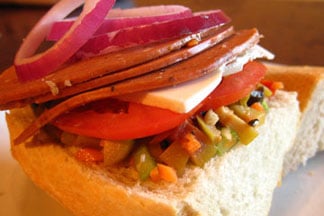 Having about 30 people, only part of my large family, visit for Christmas brought back memories of the city we're all from—New Orleans. I know I've said it before, but it's nearly impossible to think of the city and not think of food. Cajun and Creole classics typically come to mind first, but there is one New Orleans original recipe with an Italian influence—the Muffuletta.
The often-massive sandwich consists of four main elements and can easily be veganized: a variety of deli slices, cheese, round Italian bread (if you can find it), and, most importantly, the olive salad. The salad is usually made from olives, capers, carrots, celery, and garlic, which combine to create the unique flavor and potent smell of the sandwich.
Unless you want to anger a ragin' Cajun, the sandwich should be served at room temperature. WhatsCookingAmerica.net makes it clear that "it is considered blasphemy to heat the sandwich." For more info on the correct way to prepare the sandwich and to learn about the sandwich's history, check out GumboPages.com or Colorpro.com, to name just a couple.
Vegan Muffulettas
10-oz. jar green olives with pimientos, diced
1/4 cup pitted black olives, chopped
1 Tbsp. capers
1 garlic clove, minced
3 Tbsp. minced carrot
1 large celery stalk, chopped
1-2 tsp. hot sauce
3 Tbsp. olive oil
1 loaf crusty bread, cut in 1/2 lengthwise and some of the filling removed
1 pkg. veggie salami (try Yves brand)
1 pkg. veggie ham (try Yves brand)
1 pkg. veggie mozzarella cheese (try Follow Your Heart brand)
2 firm tomatoes, sliced
1 small red onion, thinly sliced
In a medium bowl, combine the olives, capers, garlic, carrots, celery, and 1/2 of the hot sauce. Set aside.
In another bowl, combine the olive oil and remaining hot sauce. Brush on the bottom 1/2 of the bread and fill with the olive mixture. Top with the veggie salami, veggie ham, veggie mozzarella, tomatoes, and onion. Top with the other 1/2 of the bread and cut into 6 to 8 pieces.
Makes 6-8 servings
Respond