New Awlins Gumbo
Written by
Amy Snyder
|
September 5, 2007
New Orleans is famous for many reasons: the architecture of the French Quarter, the destruction done by Hurricane Katrina, the massive party known as Mardi Gras, the historic plantations, the unstoppable Saints, and the Cajun and Creole cuisine native to the region.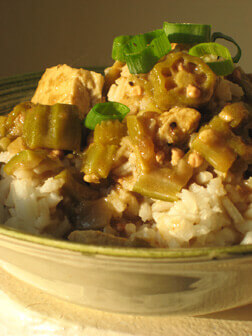 Because I was born there, the city looks a little different to me. My New Orleans looks more like this: levees to roll down, sno-balls on a hot day, humidity that you could eat with a spoon, visits with my mamère and papère, powdered sugar storms from biting into a beignet, and huge pots of jambalaya, gumbo, and red beans and rice on my mom's stove. I see New Awlins as a full-flavored city with just a hint of crazy in the air—I'm pretty sure that comes from the humidity.
When I found out that my friend Christine's birthday party would be today, I jumped at the chance to make gumbo for the event in order to celebrate her Cajun heritage and mine. The delicious gumbo recipe was supplied by Christine's own Cajun mama.
It starts out like any Cajun dish, with a dark roux and the holy trinity—onion, bell pepper, and celery—as the base. If you're from New Orleans, these are two things you are born knowing how to make. You simmer these in water, vegetable stock, okra, "chicken" strips, and spices, and then serve over white rice. The result is a deep, rich flavor with just enough spice. Just like New Orleans.
Happy birthday, Christine! And for more on vegan Cajun, check out this great resource.
Carol's Louisiana Gumbo
4 cups water
1 cup roux*
3 cups chopped onion
1 bell pepper, chopped
2 stalks celery, chopped
2 cloves fresh garlic
1 large can vegetable broth
Salt, black pepper, and red pepper, to taste
Cajun seasoning, to taste
1 pkg. frozen chopped okra
1 lb. vegan chicken, chopped (optional)
1/2 cup chopped fresh flat-leaf parsley
1/2 cup chopped green onion tops
Cooked rice
Bring the water to a boil in a large pot. Add the roux and boil for 30 minutes.
Add the onion, bell pepper, and celery. Cook until softened. Add the garlic, broth, salt, black pepper, red pepper, and Cajun seasoning. Bring to a boil and cook for 5 minutes.
Lower the heat and simmer for 1 hour. Add the okra and cook for an additional hour. Add the vegan chicken and cook for 30 minutes.
Stir in the parsley and green onion tops 15 minutes before serving. Serve over the cooked rice.
Makes 4 to 6 servings
*Note: For the roux, combine equal parts of flour and oil in a heavy pot over medium-high heat. Cook, stirring constantly, for 30 minutes, or until chocolate brown, being careful not to burn. (If it does burn, you'll have to throw it out and start over.)
Respond