Just Add Neat Meat Replacer for a Delicious Vegan Taco
Written by
April 29, 2014
|
When I received a sample of a new meat replacer made by a brand called "neat" in the mail, I was very curious about this organic, gluten-free product made of pecans and garbanzo beans. I liked that it was made with foods I eat regularly and that it came pre-seasoned—since I'm not the world's greatest chef. There are four flavors of neat: original, breakfast, Italian, and Mexican. Since I'm a huge fan of Mexican food, I opted to make tacos! The packaged mix was very easy to prepare, the seasoning was delicious, and the texture was great—crispy but succulent.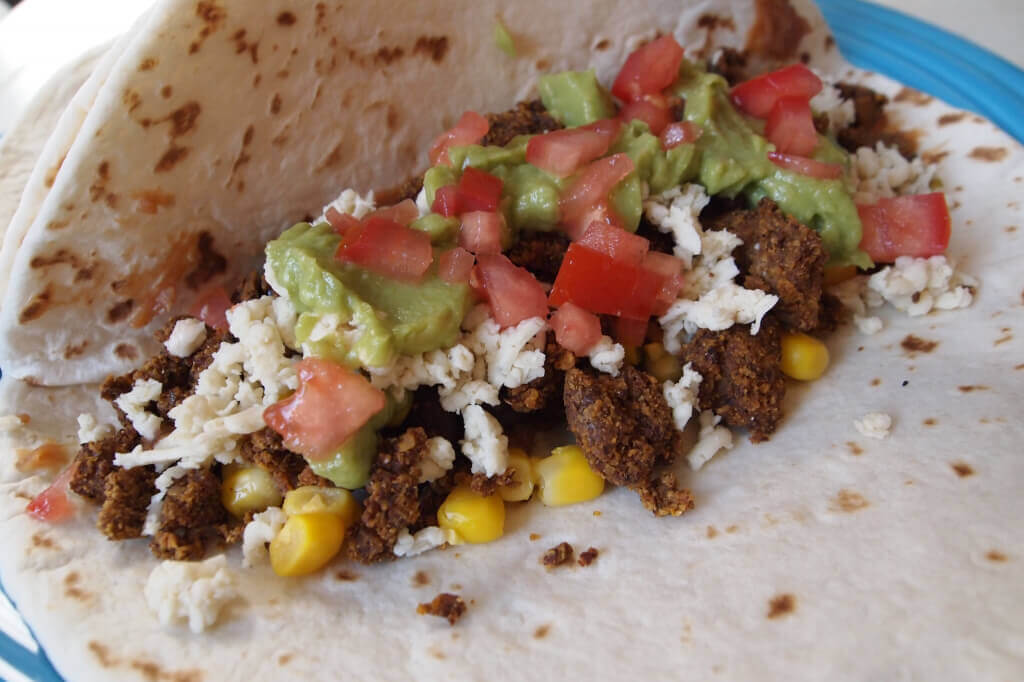 Neat 'Meat' Tacos
1 pkg. neat Mexican Mix
3 tsp. neat Egg Replacer
6 tsp. water
1 tsp. olive or vegetable oil
6–8 small corn or flour tortillas
Vegan cheese, such as Daiya Havarti Wedge, grated to taste
8 oz. cooked refried beans
8 oz. cooked black beans
8 oz. cooked yellow corn
2 tomatoes, diced
Guacamole, vegan sour cream, vegan cheese, and/or fresh salsa, to taste
Combine the neat Mexican Mix and egg replacer in a bowl. Stir in the water and mix well. Heat the oil in a nonstick skillet. Add the neat mixture, crumbling as you place in the skillet. Sauté until browned, about 7 to 9 minutes.
Fill each tortilla with some of the neat mixture, then top with the remaining ingredients, as desired. Fold and enjoy!
Makes 4 servings
Related Posts
Respond
In This Section