This Week, It's All About the Pizza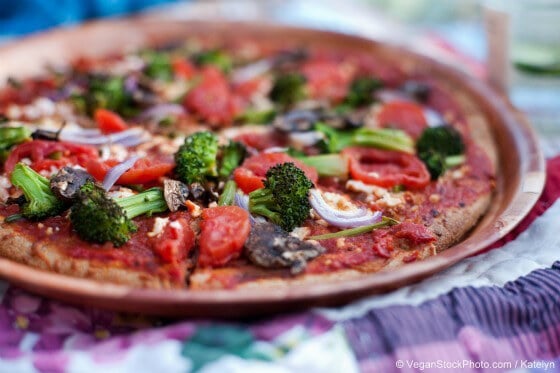 The following article was written by Keegan Baur.
Did you know that the second week of January is National Pizza Week? Yep, NPW is upon us. There aren't many people who don't like pizza, mainly because you can make it any way you please. When you have power over your pie's toppings, you can go crazy with your favorite veggies and faux meats or keep things simple with only vegan cheese. You can go the traditional route with Italian-style toppings, or you can get creative with ingredients for Greek-, Mexican-, or Thai-inspired concoctions. The possibilities are endless! I am not a huge fan of store-bought vegan cheese, so I like to top my pizzas with hummus, pesto, or homemade "ricotta" cheese.
When it comes to pizza, PETA has all the recipes and resources you need to make a divine little pie, just to your liking. Try one (or all) of the following:
Don't feel like cooking? If you're lucky enough to live near one of these places, you can dine out and let someone else do the work. Or you can simply pop a frozen pizza in the oven.
If you miss out on pizza this week, don't fret—Vegan Pizza Day is just around the corner, on January 29. You can get your fix then. 🙂
What are your favorite pizza toppings?
Respond