Memories of Apple-Palooza
Written by
October 11, 2007
|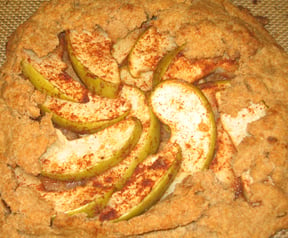 There is something about fresh apples that brings me back to my childhood. When visiting my grandparents each fall, we would pack ourselves into the car and head to the cider mill for apple picking, fresh doughnuts, cider, and homemade applesauce. We would dip our doughnuts into the applesauce, and as silly as it sounds, to this day I still think that a doughnut eaten without applesauce just isn't a proper doughnut. By the end of the day, we were nearly drunk off apples.
Now that I have oh-so-refined tastes, I like to enjoy freshly picked apples in a rustic tart—and I always use the leftover apples for applesauce. This way, I get to enjoy all the elements that I enjoyed on our cider mill trips—the apples, the pastry, the spices, the sugar—rolled into one. So maybe my tastes aren't as refined; maybe I'm just more resourceful.
Rustic Apple Tart
For the Dough:
1 1/2 cups pastry flour
1/2 cup cold margarine, cut into cubes
Zest of 1 large orange
Juice of 1/2 large orange
3 Tbsp. sugar
Using a pastry blender or a dough attachment on a standing mixer, combine the flour and margarine until the mixture resembles crumbs. Add the remaining ingredients and mix until just combined. Be careful not to overmix, or the dough will be tough.
Refrigerate for 30 minutes to 1 hour.
To Assemble:
3 Granny Smith apples, cored and thinly sliced
1/2 cup sugar
1 tsp. nutmeg
1 1/2 tsp. cinnamon
Juice of 1/2 large orange
2 Tbsp. margarine
In a large bowl, combine the apples, sugar, nutmeg, cinnamon, and orange juice. Toss gently to coat.
Roll out the chilled dough into a 1/4-inch-thick circle on a lightly floured surface. Place it on a Silpat or lightly oiled baking sheet.
Fan out the apple slices in the center of the dough, leaving 2 inches of dough around the edges. Gently fold over the edges of the dough, covering some of the apples. Dot the apples with the margarine.
Bake in a preheated 425°F oven for 15 minutes. Lower the temperature to 350°F and bake for an additional 20 to 30 minutes, or until the crust is golden and the apples are soft.
Makes 4 to 6 servings
Note: If you have leftover apples, you can easily make a tasty applesauce. Throw the leftover apples in a saucepan over medium-low heat. Add water as needed and cook until the apples are soft. Purée until smooth and serve!
Related Posts
Respond
In This Section