Memorial Day Munchies
The following article was written by Keegan Baur.
In preparation for Memorial Day, I decided to try out a few of our Red-Hot Grilling Recipes. My choices for a well-rounded, barbecue-inspired meal included a burger, macaroni salad, and cheesecake. Check it out!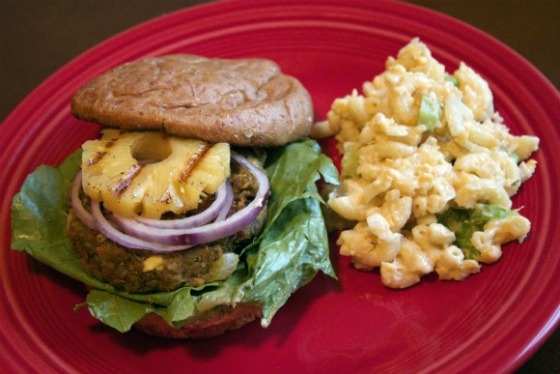 The Tropical Veggie Burgers recipe provided a unique twist on traditional veggie burgers. Loaded with curry, hot sauce, and cumin, these patties pack quite a punch! However, the ginger, allspice, and grilled pineapple rings balance out the spiciness of the dish and add just the right amount of sweetness. Since I don't have a grill, I simply sautéed my burgers in a skillet on the stovetop. They were a bit floppy, so if I ever decide to try cooking 'em on a grill, I will most likely lay a piece of aluminum foil on the grill and spray it with some oil before adding the burgers.
For a simple, easy-to-make side dish, I chose the "Mad About Macaroni" Salad. Most macaroni salads are drowning in thick, fatty mayo, so I really liked how light and fresh this vegan version tasted. This dish had a yummy chickpea taste, and its understated flavor perfectly complemented the exotic flavor of the burger.
Now for my meal's pièce de résistance: the Key Lime Cheesecake. There was nothing out of the ordinary or unexpected about this dish. It was sugary, it was limey, and it was delicious. We just couldn't get enough of the creamy, tangy filling. It's dishes like these that make vegan dining simply irresistible!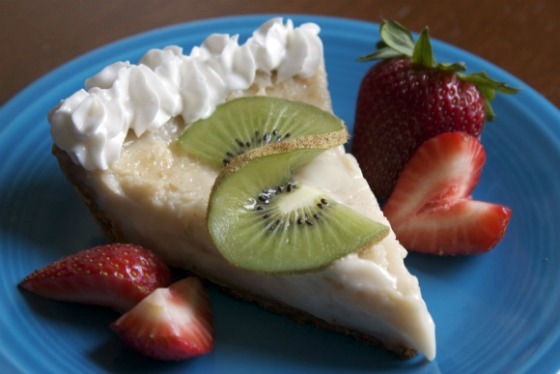 With Memorial Day just around the corner and our Red-Hot Grilling Recipes at the ready, what celebratory dish will you make?
Respond