Meet the 'Master Chef' Contestant Who Won't Eat Meat
The following article was written by Megan Bedard.
Nandini Vikram saw her dreams become reality when she was selected to compete on Master Chef 3. Her enthusiasm and dedication make her a great chef, but what set her apart this season was her ethical eating: The skillful chef refused to taste the meat that she was required to cook, creating an additional hurdle for the devoted vegetarian. But that didn't stop her success. She was selected as one of the Top 100, then Top 36, and then Top 24 from more than 30,000 competitors.
We chatted her up about her recent success, the challenges of reality TV cooking, and what it means to spread the vegetarian message to the masses:
You have been vegetarian for 32 years. What made you go vegetarian?
I was born in the state of Kerala, India, and my entire family—my mom, dad, my grandparents, and my brother—were all vegetarians. I would give my parents a lot of credit for my beliefs on vegetarianism. As I grew, I strongly believed that animals were not meant to be killed and eaten. I always felt like they are like us human beings and probably need as much care and love or even more!
What kept you committed to vegetarianism as you learned to cook?
I truly believe in it, and my respect and love toward animals has been one of the biggest forces in my commitment toward vegetarianism. I also got married to my husband who was raised as, and is still, a vegetarian. We raise our kids vegetarian also, and as I learned to cook, I designed new recipes and menus that catered to vegetarians as well as meat-eaters. It is amazing how much one can work with veggies, fresh produce, and lentils that are filled with nutrition and protein. It is such a misconception that vegetarians miss meat—that's absolutely not true. There are such wonderful substitutes like tofu, eggplant, tempeh, seitan … and you would be surprised how many different delicious dishes one can create with these. The list is endless!
With your appearance on Master Chef 3, you have really jumped into mainstream consciousness. How does that change things for you professionally?
Master Chef Season 3 was a great opportunity and a platform to spread the word on vegetarianism! Shows like these have an enormous audience, and it's the best way to get my message about vegetarianism across. More than half the country is trying and struggling to adopt a healthy lifestyle by eating healthy. To me, it is easy to gain or lose weight at a particular moment in your life, but what's more important is to follow a healthy regimen of cooking and living!
People need help with more recipes to come up with healthy, wholesome, delicious meals that can be cooked in a short amount of time. In the time it takes for someone to get something frozen from the supermarket, get back home and microwave it, you can utilize the same time to prepare a quick, wholesome delicious plate of food. Trust me when I say this: We need more awareness, and we need to instill confidence in people that they can do this. I can help them do it with my recipes and ideas of all-natural healthy vegetarian cooking.
How will things be different now that you're famous? 
Master Chef has definitely opened several doors for me. I have lined up a few cooking demonstrations at various supermarkets like Whole Foods, Kings, and also stores like Williams-Sonoma that will help me get my message and recipes out to people. Also, I am starting to work on various programs and all-natural vegetarian menus, so whether you're a novice or experienced cook, new to natural foods or expanding your cooking repertoire, we have a class tailored especially to you.
Some people love to just watch a cooking demo, take notes and my recipe cards, and are good to go. Others might be interested in jumping in and showing their knife skills or even want to join me in cooking some of those dishes. My main objective is to tailor every class to each person's preferences as well make it fun and make sure they walk out with confidence!
I have gotten a lot of catering orders in the past through word of mouth from close friends and family. Master Chef gives you the confidence to take everything to the next level.
You were also one of few vegetarians who have made it onto the show—and the only one this season! Why do you think vegetarian chefs are less common on shows like these?
I feel there is still a hesitation to accept vegetarians, and skepticism means that they don't get an opportunity to shine!
I think people and society need awareness of vegetarianism, and more vegetarian people should dare to get onto shows like these. It's a slow process, but my belief is that eventually future shows will become more open to vegetarians, and vegetarianism will be more widely accepted in general. It is such a great platform to bring about awareness of nutrition, healthy cooking, and creative recipes that are wholesome yet delicious so people lose their fears and are more confident in trying vegetarian recipes.
There are very, very few vegetarians who feel that they can go on a show like this and take up a challenge, but I would definitely feel that I succeeded if I see people getting inspired and gathering courage to go on shows like these. It is a great way to reach out to millions of viewers.
More and more vegetarians need to step up and prove that they are capable of handling such a level of competition and being successful.
Of course, we'd love for you to share a recipe with us.
Here's a link to my food blog for some recipes and to know more about me: curryliciousme.wordpress.com/.
I would definitely love to share a quick, healthy recipe with all of you. Being a mom of two girls, I am always pressed for time and love to come up with easy recipes, and this is one of my favorites! When I came up with this dish, I immediately took a picture and tweeted Gordon Ramsay, and he re-tweeted it and replied back, "Wow." I was thrilled to see it coming from him. So I hope you enjoy!
Follow me on my official fan page at Facebook.com/MC3Nandini or on Twitter @MC3Nandini.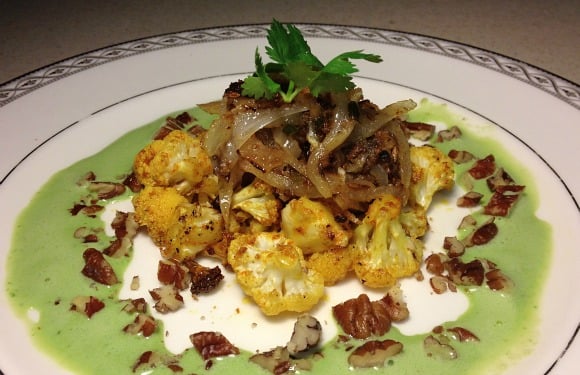 Baked Cauliflower With Pecans and Caramelized Onions in a Cilantro Soy Yogurt Sauce
1/2 head cauliflower, cut into florets
1/4 cup pecans
Salt, to taste
2 tsp. turmeric
1 tsp. chili powder
1 tsp. cumin powder
1 tsp. coriander powder
Extra virgin olive oil
1 large onion, chopped
4–5 cloves garlic
1 bunch cilantro leaves, chopped and stems trimmed
1/2 cup soy yogurt
1 tsp. cayenne powder
1 tsp. lemon pepper powder
Place the cauliflower florets in a baking pan along with the pecans, then sprinkle on the salt, turmeric, chili powder, cumin, and coriander powder.
Drizzle with some extra virgin olive oil.
Bake at 400°F for 15 minutes.
Heat a pan with oil. Add the onions, garlic, and more salt and sauté until the onions and garlic caramelize.
Transfer the toasted pecans and the florets to the pan with the caramelized onions and garlic.
Put the cilantro leaves in a blender with the soy yogurt, cayenne, and lemon pepper. Blend to a smooth consistency and add additional salt, to taste.
Transfer the green sauce to the pan with the cauliflower, onions, and pecans.
Plate and enjoy!
 *****
Do you watch Master Chef? If so, do you agree with Nandini that more vegetarian chefs need to step up to the plate?
Related Posts
Respond