Matchup of the Week: Ice Cream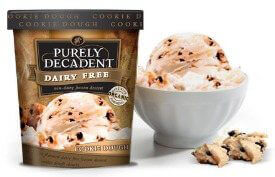 The following article was written by Keegan Baur.
"I scream, you scream, we all scream for ice cream!" It's juvenile, I know, but regardless of our age, this dish seems to be one temptation that few can resist. Especially on a hot summer day, a heaping bowl of ice cream is just the ticket when you're craving a sweet treat. But which brand to choose?
Before I went vegan, Häagen-Dazs used to be one of my favorites. Now I look in horror upon the following nutritional information:
So Delicious Cookie Dough (Gluten Free)
Calories: 230
Total Fat: 8 g
Saturated Fat: 3.5 g
Total Carbohydrate: 36 g
Protein: 1 g
Cholesterol: 0 mg
Source: http://bit.ly/kXLYq2
Häagen–Dazs Chocolate Chip Cookie Dough
Calories: 310
Total Fat: 20 g
Saturated Fat: 12 g
Total Carbohydrate: 29 g
Protein: 4 g
Cholesterol: 95 mg
Source: http://bit.ly/kcz4zp
As you can see, the Häagen-Dazs version is loaded with extra calories, fat, and cholesterol. Not to mention that there are freakin' egg yolks in the ingredient list! (Apparently it's not enough to exploit just cows used for dairy, the company's also got to capitalize on the egg production of hens.)
Today, So Delicious' soy-based Purely Decadent brand is my go-to choice for ice cream. Not only are these products delicious and decadent, they're also created without harming any animals. The cookie dough flavor is even gluten-free! Yum.
This summer, satisfy your cravings by keeping your fridge stocked with vegan ice cream. Which brands and flavors will be in your fridge?
Respond