Matchup of the Week: Frozen Pizza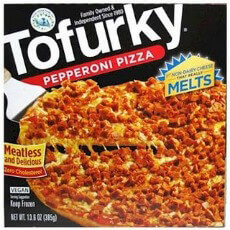 The following article was written by Keegan Baur.
Frozen pizza is not only quick and easy but also usually something that everyone in the house can agree upon having for dinner. Growing up, my brothers and I loved Tombstone pizza, and the pepperoni flavor was my favorite. Today, I'm happy to report that Tofurky's pepperoni pizza is a delish, cruelty-free substitute and my frozen pizza of choice.
Tofurky Pepperoni Pizza
Serving Size: 129 g
Calories: 270
Total Fat: 7 g
Saturated Fat: 1 g
Total Carbohydrate: 39 g
Sodium: 375 mg
Protein: 13 g
Cholesterol: 0 mg
Source: http://bit.ly/aLQpNc
Tombstone Pepperoni Pizza
Serving Size: 113 g
Calories: 312
Total Fat: 15.7 g
Saturated Fat: 6 g
Total Carbohydrate: 28.2 g
Sodium: 390 mg
Protein: 14.5 g
Cholesterol: 32 mg
Source: http://bit.ly/mJAYET
Even with a slightly larger serving size, the vegan option still has fewer calories, less fat, and zero cholesterol. (Have y'all noticed a trend?) And I think few could resist the gooey Daiya cheese and spicy pepperoni-flavored crumbles. Next time you or your kiddies are hankerin' for some frozen pizza, grab some Tofurky pizza, and everyone will be happy.
Respond