Matchup of the Week: 'Egg' Nog

The following article was written by Keegan Baur.
Recently, I have become obsessed with vegan nog. I never cared for the dairy version of this beverage (seriously—who wants to drink EGG YOLK?!), but the vegan version tastes a million times better. Not only that, it's also healthier for you. Da, da, da, dum: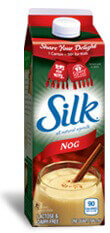 Silk Nog
Serving Size: 1/2 Cup (120 ml)
Calories: 90
Total Fat: 2 g
Saturated Fat: 0 g
Total Carbohydrate: 15 g
Sugars: 12 g
Sodium: 75 mg
Protein: 3 g
Cholesterol: 0 mg
Source: http://bit.ly/hr2ILF
Serving Size: 1/2 Cup (120 ml)
Calories: 180
Total Fat: 8 g
Saturated Fat: 5 g
Total Carbohydrate: 20 g
Sugars: 19 g
Sodium: 95 mg
Protein: 5 g
Cholesterol: 65 mg
Source: http://bit.ly/tIttng
Yep, the vegan version has almost half the calories, plus fewer carbs and less fat, cholesterol, sugar, and sodium. Basically, you get less of the stuff you don't want and more of what you do want: decadent flavor. This holiday season, you can spare egg-laying hens and your waistline by indulging in delicious vegan nog beverages. No sacrifice required. 😉
P.S. Silk-brand nog isn't the only vegan version available! Check out these options from Earth Balance and Rice Dream.
Respond