Matchup of the Week: Cookie Dough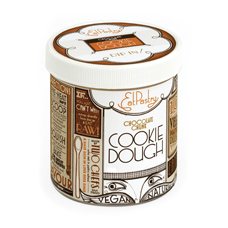 The following article was written by Keegan Baur.
Recently, I was delighted to discover a delicious new treat: ready-made vegan cookie dough!
Of course, I do have the cookbook Vegan Cookies Invade Your Cookie Jar, which contains recipes for some mouthwateringly scrumptious cookies. However, last weekend while perusing the vegan treats at the Whole Foods Market in Glendale, California, I was seduced by the sweet temptation of convenience. Who wouldn't be thrilled to get a hold of such yummy, cruelty-free fare?
Take a look at how the vegan version compares to the nonvegan one:
EatPastry Chocolate Chunk Cookie Dough
Serving Size: 1 oz.
Calories: 120
Total Fat: 5 g
Saturated Fat: 2 g
Total Carbohydrate: 17 g
Sodium: 30 mg
Protein: 1 g
Cholesterol: 0 mg
Source: http://bit.ly/knLApq
Pillsbury Chocolate Chip Cookie Dough
Serving Size: 1 oz.
Calories: 130
Total Fat: 6 g
Saturated Fat: 2.5 g
Total Carbohydrate: 28.2 g
Sodium: 95 mg
Protein: 1 g
Cholesterol: 5 mg
Source: http://bit.ly/lVUTIO
As you can see, the EatPastry vegan cookie dough has fewer calories and carbs and less fat, saturated fat, and sodium. The raw dough (made of natural, organic, and 100 percent vegan ingredients) tastes just as irresistible as the cookies themselves, which are perfectly soft and sweet.
Unfortunately, this product is currently available for purchase only in stores on the West Coast—in California, Oregon, Washington, Nevada, and Arizona—and Hawaii. That said, the EatPastry website declares, "[We] … hope to soon be selling our cookie dough throughout the nation! Stay tuned!" If these products are currently not sold in your favorite natural market, put in a request there or contact the company itself, and maybe the cookie dough goodness will spread your way!
As for those of us lucky enough to have immediate access to these tasty little treats, grab a cookie sheet and get baking.
Respond