Matchup of the Week: Breakfast Sausage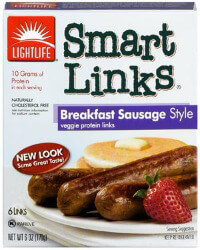 The following article was written by Keegan Baur.
About a month ago, two of my aunts decided to go vegan (isn't it amazing and wonderful how veganism spreads?), and they've been asking a slew of questions. One of these lovely ladies inquired about breakfast foods and wanted to know if I had any meal suggestions other than fruit and cereal. She informed me that her breakfast favorites have always been eggs, sausage, and potatoes. Luckily for her, there's a delicious veganized version of just about every dish, whether you're hankerin' for a breakfast scramble, pancakes, or sausage links. And what's more, the cruelty-free versions are usually healthier! See for yourself:
Lightlife Smart Links Breakfast Sausage
Serving Size: 56 g
Calories: 100
Total Fat: 3 g
Saturated Fat: 0 g
Total Carbohydrate: 8 g
Sodium: 500 mg
Protein: 10 g
Cholesterol: 0 mg
Source: http://bit.ly/iPwmNI
Johnsonville Original Breakfast Sausage Links
Serving Size: 55 g
Calories: 180
Total Fat: 14 g
Saturated Fat: 5 g
Total Carbohydrate: 2 g
Sodium: 610 mg
Protein: 11 g
Cholesterol: 35 mg
Source: http://bit.ly/jbpws4
Yuck! Just looking at all the extra calories, fat, sodium, and cholesterol in Johnsonville sausages makes my heart hurt. It's no secret that vegan food is better for your health, so start your day the right way and make your breakfast a vegan one!
Respond