Matchup of the Week: Barbecue Wings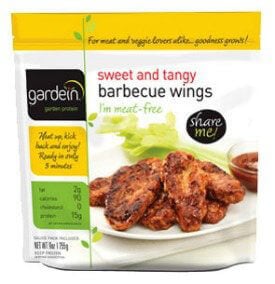 The following article was written by Keegan Baur.
Summer is coming to an end and so is barbecue season! This may be our last chance this season to get outside, enjoy the summer sun, and grill up our favorite mock meats. Before I went vegan, chicken was definitely the meat most often found on my plate. But now I know that chickens are arguably the most abused animals on the planet. Therefore, I'm goin' faux fo sho! Luckily for me, the vegan version of barbecue "chicken" wings is also healthier for me. Check it out:
Gardein Sweet and Tangy Barbecue Wings
Serving Size: 87 g
Calories: 130
Total Fat: 4 g
Saturated Fat: 0 g
Total Carbohydrate: 8 g
Sodium: 375 mg
Protein: 15 g
Cholesterol: 0 mg
Source: http://bit.ly/9BS2QP
Tyson Any'tizers Honey BBQ Wings
Serving Size: 84 g
Calories: 190
Total Fat: 12 g
Saturated Fat: 3 g
Total Carbohydrate: 8 g
Sodium: 390 mg
Protein: 13 g
Cholesterol: 85 mg
Source: http://bit.ly/nPt6ZL
Just as we saw with the "Chicken" Nuggets Matchup, the cruelty-free version of barbecue wings has less fat, less cholesterol, and more protein. Score! Because vegan eats are better for animals—including honey bees!—for my own health, and for the planet, I can enjoy Gardein's barbecue wings during my next grilling session to my heart's content. Yay for finger-lickin' vegan "chicken" in all its sticky deliciousness!
Respond